The iOS 4.1 update added the Game Center to our iPhone and iPod Touch devices, but we've been struggling to find games which let us take advantage of this feature. Here are the ones we've discovered so far. Updating.
Field Fencer
This game will set you back $1.99 and is full of cute little creatures who are trying to cultivate some plants on their land. [iTunes]
Ms. PAC-MAN
This was the first game to be updated for the game center. It's a classic that requires little introduction and is available for $4.99. [iTunes]
G/O Media may get a commission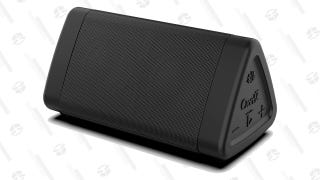 Save 31%
Oontz Angle 3 Portable Bluetooth Speaker
Icarus-X
This appears to be a fun vertical shooter filled with bosses you'll need to beat. It's available for $1.99. [iTunes]
Flight Control
Currently the lowest-priced paid Game Center compatible game is Flight Control at $0.99. It is a simple yet incredibly addictive game in which you attempt to safely guide aircrafts where they need to go. [iTunes]
Worldy Wings
It's hard to resist this cute shooter despite its $1.99 price tag. [iTunes]
Enigmo
Enigmo will set you back $2.99 and give you a headache. It's a challenging puzzle game in which you try to control droplets of different substances using various bumpers, sliders, accelerators, and sponges. [iTunes]
Fieldrunners
Field Runners is a rather lovely looking tower defense style game. Available now for $2.99. [iTunes]
Cro-Mag Rally
Of course there needed to be a racing game of some sort available on the day the Game Center launches, but I didn't expect it to be as nutty as Cro-Mag Rally. It's $2.99 and makes me feel like I'm Fred Flintstone. [iTunes]
Touchgrind
Can't use a real skateboard without falling flat on your rump? Me neither. But I'm a pro skateboarder in Touchgrind. It's $4.99 and lets us all pretend we can do ollies, shuvits, kickflips, heelflips, impossibles, 5-0, 50-50, crooks, smithgrinds, boardslides, tailslides and who-knows-what-else. [iTunes]
Word Scramble Challenge Edition
Here's a fun (and free!) game to take for a spin in the Game Center: Word Scramble. It's basically a battle to find as many different words before time runs out. It's addictive, difficult, and among my favorite games. [iTunes—Thanks, Marc!]
Zentomino
This looks like a pretty basic puzzle game and like a nice way to waste a few minutes. Only a buck and available now. [iTunes]
Zen Bound 2
For $2.99, you can grab a copy of Zen Bound 2 which is a rather fun way to relax. It's a puzzle game in which you attempt to tie rope around an object in just the right way. Yes, it sounds kinky and simple but it's definitely amusing. [iTunes—Thanks, Rick!]
PAC-MAN
First Ms. PAC-MAN entered the Game Center and now plain ol' PAC-MAN followed. The classic game is available now for $4.99. [iTunes]
World Series of Poker Hold'em Legend
Hold'em fans will like this one: The WSOP Hold'em app is now compatible with the Game Center and only a buck. [iTunes]
Real Racing
It'll set you back five bucks, but Real Racing is one of the more popular and realistic racing games available for the iOS. [iTunes]
FarmVille
While I cringe every time I hear about it, FarmVille has a lot of fans. It's free and plays well with the Game Center now. [iTunes]
These are the games we've noticed have been updated with Game Center compatibility so far. We'll keep updating the list as we discover more, so feel free to send in any that we've missed.