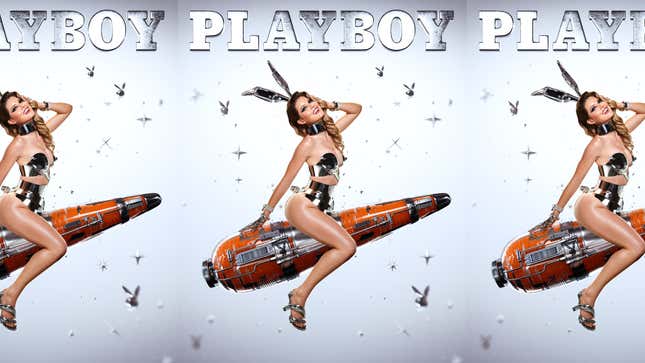 Is there still room in today's world for Playboy? The popular magazine's current owner, PLBY Group is reviving the original magazine in a digital-only format, with a catch: This new Playboy is a virtual display window for an OnlyFans-style platform called, of course, Playboy.
'We're Gonna Drop a Bomb' | David Harbour on Thunderbolts
The company announced on Monday that it was bringing back its iconic magazine with a mix of free and paid content. According to Variety, the new Playboy will offer select content for free, but will require users to pay individual creators for behind-the-scenes content and full photo shoots. Playboy's first issue will be released at the end of this year, but you can already view some of its first photos on Playboy's website, which feature the model Amanda Cerny.
The Playboy platform's business model is very similar to one used by OnlyFans, although there are some differences, chiefly that Playboy allows nude photos, but not hardcore porn.
"Many of our creators do not have nudity on their pages," a Playboy spokesperson told Variety. "While we allow nudity, we do not allow explicit content/pornography… We are not positioning this as an 'adult' platform—it's for everyone, including mainstream creators sharing behind the scenes of their lives."
Unlike OnlyFans, Playboy won't directly allow amateur models on its platform. In order post on the site models have to send in an application and be accepted by the company.
The history of Playboy Magazine
To understand exactly why Playboy (the company) decided to use its iconic magazine to promote its new creator platform, it's important to understand the magazine's recent history. Back in 2011, Playboy founder Hugh Hefner sold Playboy Enterprises to a company called Rizvi Traverse. Since then, the magazine has been fighting a three-pronged battle: To separate itself from its shady origins and history of discrimination against women; to find a market on the internet where easy to find naked pictures completely free of charge; and to find a balance between allowing full nudity in the pages of its magazine and not ruining its product licensing business in markets that don't allow that type of content.
In 2015, for instance, Playboy removed nudes from its magazine covers. The CEO of the company at that time, Scott Flanders, justified this decision in statements to The New York Times: "You're now one click away from every sex act imaginable for free. And so it's just passé at this juncture," Flanders told the outlet.
At that time Quartz saw Playboy's decision differently, pointing out that the company was trying to be "cleaner" and more politically correct in its print edition to help its business in China and India. Considering that Playboy generated 40% of its revenues from China at that time, it made sense.
Hefner died in 2017, and Playboy Enterprises decided to shutter the print version of the magazine in 2020. There were rumors about retiring the print magazine starting in 2018, partly due to the general crisis facing print magazines. Playboy began publishing in 1953 and reached maximum circulation in 1975, when it printed 5.6 million copies of an issue in the U.S. By 2018, its circulation had dwindled to less than 500,000 copies per issue.
In March of 2020, the CEO of Playboy Enterprises, Ben Kohn, announced that the magazine's spring issue would be its last in print. The official reason Kohn cited for this decision was the distribution problems caused by the Covid-19 pandemic, but it's clear the print version of the magazine had been heading for the chopping block for some time.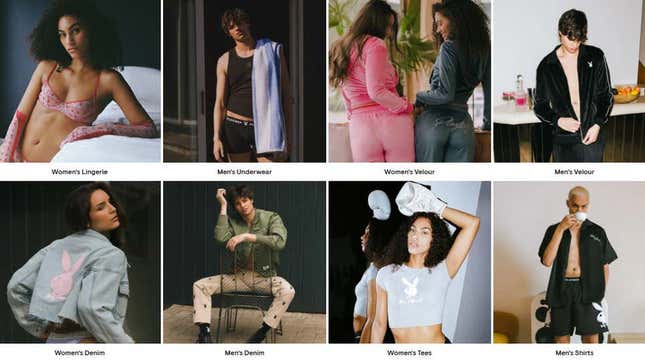 One year later, Kohn announced that Rizvi Traverse would merge with Mountain Crest Acquisition Corp to form PLBY Group, a company with three main business areas: content licensing to third parties, the sale of direct-to-consumer products, and digital content. At that time, Playboy already sold subscriptions for nude content on its website. In May of 2022, in hired ex-Twitch executive Loren Piretra to launch Centerfold by Playboy, a subscription platform similar to OnlyFans with its own app.
Back in September, PLBY Group scrapped the "Centerfold" name and integrated its creator platform with the original brand, deciding to call it simply "Playboy."
Is there still room in today's world for Playboy?
The question has nothing to do with nude photos—at this point of the internet we should already be used to those—but rather with its business model.
Playboy defines its platform as an "elevated, safe, and exclusive" version of OnlyFans. In practice, what Playboy proposes is a mix of Instagram, TikTok, and OnlyFans, but with content produced by professionals and sold via a subscription, with no ads. The problem is that Instagram, TikTok, and Twitter are already full of very talented artists whose content you can access without paying anything, or by paying the artists directly via monetization platforms like Patreon, Ko-Fi, or Twitter's own monetization features.