Staying through the end of the fourth and final day of the PMA show in Orlando must feel a little like being the last journalist out of Vietnam after the fall of Saigon. You hear the sound of the buses outside like the roar of the choppers on top of the U.S. Embassy in Saigon circa 1975, but you re surrounded by a sea of Public Relations flaks, manufacturer marketing mavens, camera store owners and other assorted photo enthusiasts who also want to get the hell out of this town and back to their homes as soon as possible, far away from the Land of the Giant Rat.
From the roof of the Orange County Convention Center on International Drive you can see the lights of Red Lobster like hot tracer bullets in a firefight above Da Nang. Do you turn back and face the enemy of blue sport jackets trying to throw a final press kit at you or do you run back to your hotel room and load up on liquor, drugs and guns hoping that your JetBlue Flight back to New York tomorrow isn t cancelled because of some kind of impending storm that s pushing into the Tri-State region through Canada.
I ve opted for the latter and am back here, fully ensconsed, at the (Last) Days Inn just off International Drive (or I-Drive as locals calls it) in Orlando trying to make sense of four days of shutters speeds, ISOs, zoom lenses and memory cards. Though I feel a little like Martin Sheen dancing drunkenly in his hotel room in Apocalypse Now and can hear the machine-gun clip of high-speed Digital SLRs still ringing in my ears, here s a final hightlight from the show floor.

If you re looking for a point-and-shoot camera you might want to bring into battle with you, check out the Olympus Stylus 720 SW, a shock and waterproof camera that you can take snorkeling, fishing or rolling out of your Swift Boat on the Hap River in Vietnam. While I ve been telling camera manufacturers for years to make a camera that can take a licking and can keep on clicking, it s nice to see one actually listen. Despite some heavy construction elements, this 7MP camera isn t exactly as rugged as you might think. (Translation, it ain t no Panasonic ToughBook, though that would be nice) You can supposedly drop the Stylus 720SW from five feet and still be okay but the real test would be whether I could pitch it from my fourth floor hotel room into the pool here at the Day s Inn and still make it back to New York alive. I ll report back to you with the results of this test after all this Sam Adams has finally passed through my system.—Dan Havlik with DigitalCameraInfo.com
Press Release [Olympus]
G/O Media may get a commission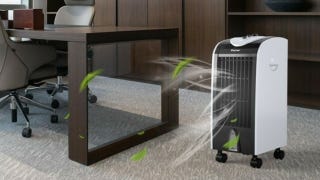 Save $10
Evaporative Portable Air Conditioner Cooler with Filter Knob