The second to last ever Pushing Daisies episode is on this week — saving us from summer TV hell, but plunging us into "it's still canceled" despair. Also ABC's huge special documentary debuts, telling us what horrors await our grandkids, in the year 2100.
Monday:
Underwater Universe -
Dive to the bottom of the ocean without getting wet. Learn all about deadly threats in the deep blue sea, as the special takes you to the seven deadliest zones in the history of the ocean. Check it out on the History Channel at 8 PM.
Tuesday:
Earth 2100 -
ABC imagines what will happen to our filthy, polluting butts in 2100, by consulting the experts and asking for video submissions from people all over. In their nightmare scenario, gas will be $9 a gallon and a carton of milk will be $12. Hell, screw the endangered species — that's expensive. But if you factor in inflation... maybe we'll focus back on the animals. One expert theorizes that we'll resort back to a Medieval caste system, which could be fun if it's like we get to live in an SCA gathering full-time. ABC News Special: Earth 2100 is on at 9 PM.
G/O Media may get a commission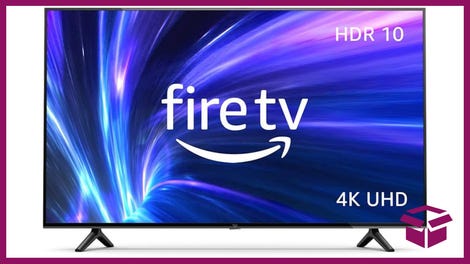 42% Off
Amazon Fire TV 50" 4K Smart TV
Clip:


Clip:


Clip:


Clip:


Clip:


Movies:
Buckle down for a back-to-back buster evening, with screenings of the original Ghostbusters at 8 PM and Ghostbusters II at 10:30 PM on AMC.
Wednesday:
MonsterQuest -
The monster hunters trek over to Papau New Guinea in search of a flying creature with a 20-ft. wingspan... aaaaand sold. See if the being is a terrifying giant bat, or just a dragon, on the History Channel at 9 PM.
Life After People -
So now that we know what will happen to paintings and our swimming pools (both will become overrun by bugs and disease) what about Sin City? What's in store for Las Vegas, once we're all gone? Will the animals learn how to play blackjack? Life After People is on the History Channel at 9 PM.
Mythbusters -
Can you really tunnel your way out of a cement prison with a tiny mallet? New Mythbusters puts science to work on common prison escape myths on the Discovery Channel at 9 PM.
Movies:
Possibly the best of the Stargate movies, Continuum, is on the Syfy Channel at 9 PM. Delve deep into the man that is Ben Browder, when the world erases him (and many members of his team) from existence, at 9 PM.
Thursday:
There is an original-series Land Of The Lost marathon over at the Syfy Channel from 6 AM until 5:30 PM.
Friday:
Batman: The Brave and the Bold -
Catwoman is getting frisky, and interfering with our main Bat's plans for a quiet crime free evening. Plus, the Red Tornado faces a difficult decision when he needs to turn off his own son. The new episode is on Cartoon Network at 8:30 PM.
Batman: The Brave and the Bold Clip:


Batman: The Brave and the Bold Clip:


Batman: The Brave and the Bold Clip:


Saturday:
Primeval -
Mick steals an anomaly detector to uncover what's going on at the airport. But when a Giganotosaurus appears they have figure out a way to get it back in time, before the public realizes they're in danger and panics. That's on BBC America at 9 PM.
Pushing Daisies -
A rich man's murder leads some breadcrumbs to the location of Emerson's missing daughter. David Arquette moons over Olive as Randy Mann. Catch the second to last Daisies ever on ABC, at 10 PM.
Trailer (Sorry it's in German, can't find English)


Sunday:
Movies:
The Syfy channel premiere of Bottom Feeders, a bloody little film about a maintenance crew that becomes the snack for the monster living in their building. Starring Tom Sizemore, on the Syfy Channel at 8 PM.