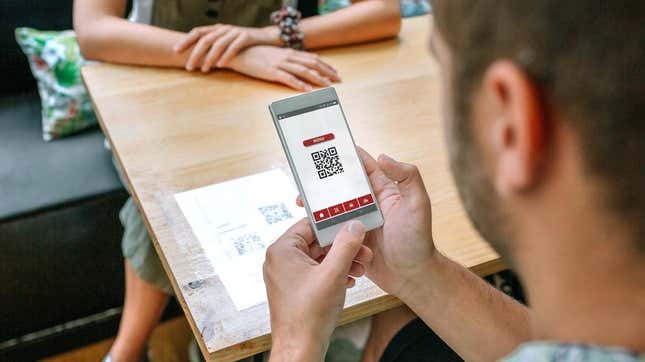 The QR code menu which restaurateurs began using during the covid-19 pandemic may soon become a thing of the past with some eateries moving back to the traditional handheld menu. In the early stages of the pandemic, when restaurants first opened back up and began welcoming patrons back to their tables, they introduced tabletop QR codes as a hygienic alternative to menus, and many thought the technology would be here to stay.

Boogeyman's Director Talks Working on Bigger Budget Horror
Despite these early predictions, three years later, the QR codes aren't as popular as they once were, with the majority of restaurant goers preferring a handheld menu. "They are almost universally disliked," Kristen Hawley, founder of the restaurant technology newsletter Expedite, told The New York Times, citing one reason as etiquette. Taking a phone out at a table can feel like a distraction, something people use to pass the time when they would rather be doing almost anything else, and when forced to use a phone as a menu alternative, it successfully kills the mood.
The popularity of QR codes continues to fall, according to MustHaveMenus, which says it has seen a drastic drop in the number of scans which dropped by roughly 27% between April 1 and May 16 this year versus the same time in 2021. Mark Plumlee, the senior content manager at MustHaveMenus, told The Times about 75% of the company's existing QR codes go mostly unused, receiving only 90 views in the last year, while half had less than five.
At the time, there was a buzz around the new wave technology, who would have thought you could view a menu, order, and pay, all through a QR code? It elicited an excitement that prompted many to question if they were here to stay. Scott Selman, head of marketing of Titan Hospitality Group, told Digital Trends in 2020, "People have been loving the ease of access," in response to the QR code menus. "For many of our patrons, it's an experience they continue to talk about."
But times have changed, and with it, the response to digitized menus. Alec Moran, a server at a high-end Italian restaurant in Chicago told The Times there is something dehumanizing about waiting on customers who are referencing a QR code instead of personal contact. He told the outlet that customers are more likely to stare at their phones and "pay less regard to you as the human in front of them." He added, "The world gets more digitized every single day. It felt like restaurants were one of the few analog public spaces that we have left."
But with hindsight always 20/20, it seems inevitable that the unique and exciting nature of the QR code menu was short-lived, much like a new toy that loses its appeal if it's played with too much. Fatigue sets in and customers begin yearning for the one staple that has always remained the same–the handheld menu.