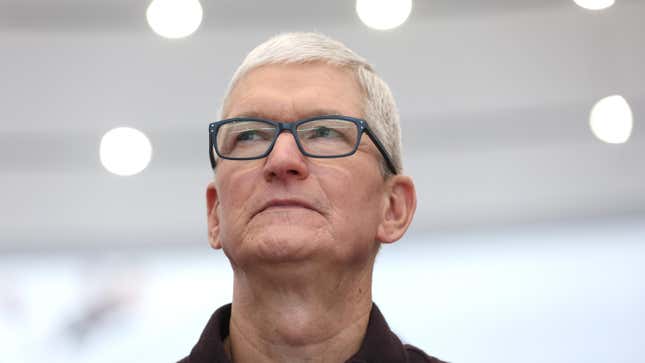 Apple is having a real hard time getting its still nonexistent AR glasses to a state of less-nonexistance. So much so, that the latest reports show Apple may even need to delay its still-unannounced AR glasses and instead focus solely on its still-unannounced mixed reality headset.
Buy Now or Wait? How to Avoid Tech Buyer's Remorse
Bloomberg reported based on anonymous sources who knew of Apple's internal deliberations that the company was postponing its augmented reality glasses while trying to hold steady on its plans for a "mixed reality" headset. The MR is meant to include both a mix of AR and virtual reality. The idea is users can play games or perform tasks in a virtual space ala Meta's concept of the metaverse, but also interact with virtual objects as if they appeared in real meat space.
It's unclear what the major hiccup is, at least according to Bloomberg's reporting. These glasses need to be worn for hours at a time, meaning they have to have a comfortable weight and form factor.
The tech surrounding AR glasses is getting very interesting, as Gizmodo noticed during CES 2023. We've found that multiple prototype glasses products, some using OLED and others using Waveform display technology, were already relatively lightweight and innocuous. At first glance, it was hard to tell that these glasses were AR-capable. Some companies we spoke to expected major announcements in the AR glasses space in just two to three years, but Bloomberg's report noted that Apple may just create a lower-cost version of its mixed reality headset in 2024 or 2025.
Apple did not immediately respond to Gizmodo's request for comment.
Apple has been pushing its AR glasses for years, and CEO Tim Cook has come out as favoring AR over virtual reality. So what does "postponed" mean in the context that Apple has yet to even make a public statement about its true plans for AR? Well, it just means more delays for an already heavily-delayed product.
Apple has not been open about what it's been working on in the VR/AR space, but routine reports have noted that the company's mixed reality headset could come stock with 8K displays, a M1 Pro-level processor and contain 14 cameras built inside for "see-through AR Services." The headset had reportedly been postponed to sometime this year as the company tried to get all this working in one contained unit. Previous reports noted that trademarks suspiciously linked to Apple included the names "Reality Pro" and "Reality One," pointing to multiple products along the same range of AR or Mixed Reality, all behind the trademarked "Reality Processor."
All this is to say, Apple's main problem will be price. Past rumors noted the device could cost $3,000, while later analysis noted a limited 1.5 million launch units priced at about $2,000. Of course, it's hard to rely on the rumor mill. Every new tech showcase where we expect to see an announcement for its AR headset, we're sorely disappointed to find Apple has nothing to say about tech you can put over your eyes.
In the meantime, HTC and Meta are rolling out their own high-priced headsets. The Meta Quest Pro at $1,500 still costs significantly less than Apple's assumed price, though both are still far outside the price range of the average consumer.