Here are the answers to our Quizmodo feature that we put up on New Year's Day. Most of you knew your onions, but there were a couple of glaring errors. There is, as far as I know, no such thing as a USB Log Cabin, although, if any one would like to build one for us, we'll be very impressed indeed. Blam does love his snowboarding, but we can't all fit into his Tahoe cabin at the same time. Answers are below.
1Who said?
1. "It's a husband-wife thing."
Ballmer talking about his relationship with Bill Gates.
2. "We've kept our marriage secret for over a decade"
Steve Jobs on his relationship with Bill Gates.
3. "My brain is filled with software."
Bill Gates (Do you think I have a teeny obsession here?)
G/O Media may get a commission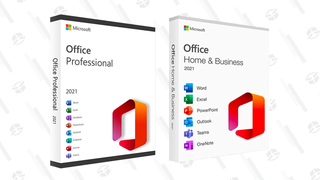 89% off
Microsoft Office Professional 2021 Lifetime License
4. "I have Nerd credentials."
Jeff Bezos.
5. What made us want to: "Haul burlap sacks full of potatoes, in a plaid shirt made of really itchy wool, in the forest, as I cultivate a beard"
USB Log cabin my arse. It was the new nano.
6. What is "like walking in an attic crawlspace - cramped and uncomfortable."?
Helio Ocean keyboard.
7. What was "like being tossed into a menage a trois with Angelina and a She-Yeti."
The AT&T-iPhone bunk-up (although most of you thought it was Mossberg on his Gates-Jobs showdown.
8. "Two words: Fisher. Price."
The Nokia N95, top answer of the Zune was, however, cheered by the rabid Apple fanboys on the site.
9. What product won Mark Wilson's epic Battlemodo of the Docks back in August?
Altec Lansing IMV712.
10. "My wife thinks it looks like a medical device." What does?
Amazon Kindle.
11. "Really ties the room together." What the hell was Wilson talking about?
Gateway XHD3000 monitor.
12. What happened at Plaster City, CA, on Oct 7?
X-Wing crashed and burned.
13. What was so awesome for Giz about the Apple event on Sept 5 this year?
First Liveblog that didn't crash the system.
14. Which two Giz regulars are married to each other?
Addy and Jesus.
15. Who came and put the C into Gizmodo back in February?
Joel Johnson.
16. What's this then?


Robosapiens dildo.
17. And this?


Blowjob machine.
18. What about this?


Tilt Smartphone.
19. This?


El Jobso looking fly.
20. Bueller... Bueller....


All of the above. Oh, okay then, the Optimus Keyboard.
21. Anyone? Bueller?


Honey Doll.
22. Uh, any ideas?


TiVo.
23. Next!


Robotech Thruster masturbatronic device.
24. Nearly there.


Angel Kitty tailcam.
25. OK, last one. WHAT IS THIS?


Hot Doll, sex doll for dogs.