Elisabeth Sladen, who played Sarah Jane Smith in Doctor Who and two spin-off shows, has died, according to BBC News.
Her death is a huge loss to Doctor Who fans, and to fans of strong female adventure heroes everywhere. It's hard to overstate how important Elisabeth Sladen was to Doctor Who, and how much she transformed the role of the companion on the show. In many ways, she paved the way for all of the show's more intelligent, resourceful companions in the 21st Century.
When her character, Sarah Jane Smith, was added to the show in 1973, she was a direct reaction against the ditzy, spacey Jo Grant, her predecessor. And at first, Sarah Jane Smith was conceived of as a sort of plucky girl reporter, like Lois Lane, who would spout lines about "Women's Lib" every now and then. In her very first scene, Sarah Jane has a stereotypical 1970s feminist moment with the Doctor, who asks her to make herself useful by making coffee. Later, Sarah Jane gives the struggling Queen Thalira a crash course in standing up for herself. Watching those early episodes, you sense that the show is cluelessly trying too hard to make Sarah Jane a strong female character.
And by the time Tom Baker took over as the Doctor, Sarah Jane was being pushed into the traditional "damsel in distress" role more often. She spends a lot of Baker's first year squealing, screaming, being pushed off cliffs, getting sick and being trapped in impossible situations that the Doctor and Harry have to get her out of. Sladen has mentioned several times that she complained to the producers about this state of affairs, and seriously considered leaving the show after her second year.
G/O Media may get a commission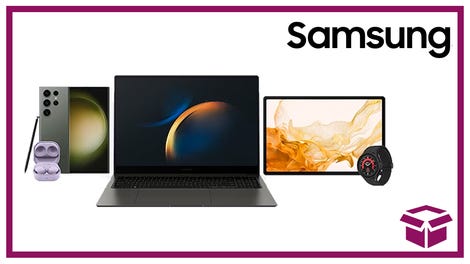 24 hour deals
Discover Samsung - Daily Deal
Instead, the character of Sarah Jane changed, and became what the producers had originally struggled to make her: a strong, independent woman. In Baker's second season, Sarah Jane figures stuff out as often as the Doctor does, and frequently stands up for herself. On the DVD of "Pyramids of Mars," director Paddy Russell (one of the show's few female directors) explains how she and Sladen reworked the scripts, giving some of the Doctor's lines to Sarah Jane — so instead of the Doctor explaining stuff to Sarah Jane, it became Sarah Jane working things out on her own.
In those later stories, Sarah Jane is more of an equal partner to the Doctor, and often plays a crucial role in defeating the alien menace. And she gets one of my favorite companion moments in "The Seeds of Doom," when the thuggish Scorby laments that all his armed guards have fled the scene of the Krynoid attack, "just like a bunch of women." A few moments later, Sarah Jane is preparing to go face the Krynoid alone, and Scorby tells her it's suicide with that creature roaming around. She turns to him and says, "What was that you were saying about women?" The look on her face is priceless.
Sarah Jane was one of the longest-lasting Who companions, appearing for three and a half seasons. And unlike most companions, she continued to have an impact on the show long after her depature.
When Baker himself was planning on leaving Doctor Who, then-producer John Nathan-Turner asked Sladen to come back as Sarah Jane Smith for a while, to help ease the transition between Doctors. Sladen turned down that idea, but agreed instead to star in a spin-off series called K-9 and Company, in which she teamed up with the Doctor's robot dog to solve mysteries. Sadly, K-9 and Company was not that great a show, and it was soon forgotten, except that Sarah Jane and K-9 both put in repeat appearances in the 1983 special "The Five Doctors."
And somehow, the character of Sarah Jane never went away. Sladen reprised the role in 1990s audio adventures with Jon Pertwee as the Doctor, "The Paradise of Death" and "The Ghosts of N-Space." (Memorably, in one of them, she explains Sarah Jane's first law of journalism: Always make sure your expenses are taken care of.) She also starred in a series of nine Sarah Jane audio plays, including "Comeback," "The Tao Connection," "Test of Nerve," "Ghost Town," and "Buried Secrets," for Big Finish Productions in the early 2000s.
And when Doctor Who returned as an ongoing television series, Sarah Jane was one of the first elements from the classic series to be brought back. She was reunited with the Doctor in 2006's "School Reunion," where Sarah Jane finally deals with her feelings about being left behind by the Doctor at the end of "The Hand of Fear." But just as importantly, Sarah Jane is still fighting alien monsters and saving the planet, years after parting company with the Doctor — and that's how the two are reunited in the story, because they're working the same case.
Sarah Jane's reappearance in "School Reunion" worked well enough that she was given a second chance at a spin-off show — and this time, it worked. The pilot wasn't the greatest thing ever, but when the Sarah Jane Adventures became an ongoing show, it quickly gelled into a beautiful show that encapsulated everything that was great about classic Doctor Who, with an added layer of warmth and sweetness.
Sarah Jane Smith went from being a former companion to being a Doctor-ish figure in her own right, serving as mentor and protector to an ever-changing cast of kids and young adults, including her own adopted son Luke. At its absolute best, her spin-off show has been capable of tremendous cleverness, but the characters were always front and center. You may have wished the Doctor would sweep you away in his magical time machine, but Sarah Jane was the guide and friend that we'd all want to go visit. Even though she had a magical supercomputer and a futuristic robot dog, she was still all about nurturing the potential of the young people around her.
Edited to add: People are always speculating about what it would be like if we had a female Doctor. I feel like we sort of had one already, and her name was Sarah Jane Smith.
And a lot of the best episodes of the Sarah Jane Adventures dealt with what a mess the world would be in if Sarah Jane had never existed — just like the Doctor himself, she managed to become a crucial factor in our world's survival. Sarah Jane made another couple of appearances on Doctor Who during the David Tennant era, and the Doctor also visited her show twice.
The good news is, at least half of the next season of Sarah Jane Adventures are already in the can. (Here's a set report.) So we'll be seeing her save the world at least a few more times. And her autobiography is due to be published in July.
PS: The BBC sent me this official statement:
It is with much sadness that we can announce Elisabeth Sladen, the much-loved actress best known for her role as Sarah Jane Smith in Doctor Who and CBBC's The Sarah Jane Adventures, passed away this morning. She was 63.

Lis first appeared as Sarah Jane in Doctor Who in 1973 alongside the Third Doctor Jon Pertwee and stayed for three and half seasons working alongside Jon and the Fourth Doctor Tom Baker. She returned to the role on numerous occasions over the years and, in 2007, was given her own spin-off series on CBBC - The Sarah Jane Adventures - where she would appear alongside new Doctors David Tennant and Matt Smith.

The Sarah Jane Adventures brought Lis a whole new generation of fans who grew up to love her alien-busting adventures. The series was hugely popular with fans young and old and won this year's RTS Award for best children's drama.

Controller of CBBC Damian Kavanagh said tonight: "I'm deeply saddened and shocked by the news of Lis' untimely death. Lis brought joy, excitement and a sense of wonder to her many fans in her role as Sarah Jane Smith. She was adored by our young audience and I know all of them will miss her as much as I will."

The creator of The Sarah Jane Adventures Russell T Davies said: "I absolutely loved Lis. She was funny and cheeky and clever and just simply wonderful. The universe was lucky to have Sarah Jane Smith; the world was lucky to have Lis."

Steven Moffat, Doctor Who's Lead Writer and Executive Producer said: "'Never meet your heroes' wise people say. They weren't thinking of Lis Sladen.

"Sarah Jane Smith was everybody's hero when I was younger, and as brave and funny and brilliant as people only ever are in stories. But many years later, when I met the real Sarah-Jane - Lis Sladen herself - she was exactly as any child ever have wanted her to be. Kind and gentle and clever; and a ferociously talented actress, of course, but in that perfectly English unassuming way.

"There are a blessed few who can carry a whole television show on their talent and charisma - but I can't think of one other who's done it quite so politely. I once showed my son Joshua an old episode of Doctor Who, in which Lis appeared. "But that's Sarah Jane," he said, confused "In old Doctor Who. From years ago. How come she always look exactly the same?" It's not a comfort today, of course, but children will still be saying that fifty years from now."

Keith Jones, Director, BBC Cymru Wales, said: "The Sarah Jane Adventures has been one of the most successful children's programmes on television in recent years - and without Elisabeth Sladen it would not have happened. A brilliant presence on screen and on set, she brought the excitement and energy of the Doctor Who family of programmes, of which we are very proud at BBC Wales, to a whole new generation. She will be missed by all at BBC Wales who worked with her."

Roger Carey, who represented Lis for many years, said. "She was not just a client, but a dear friend. She was so positive about life and her natural energy was intoxicating. She couldn't believe her luck when her career was resurrected in her own series."

Lis had been suffering from cancer. She leaves behind a husband, actor Brian Miller, and her daughter, Sadie.