After electing to skip a multi-million dollar interest payment last month, the cash-strapped radio company iHeartMedia, which owns 850 stations and has a portfolio of digital offerings, has filed for Chapter 11 bankruptcy. In a statement released Thursday, iHeartMedia Inc. said it will continue its day-to-day operations as usual, meaning you won't need to change the presets on your car radio or stop using any of iHeartRadio's unappealing streaming services. Still, the company's outstanding $20 billion debt due to a leveraged buyout a decade ago might be hard to rectify. Indeed, the company is having a hard time turning the corner as competing digital listening options eat into its terrestrial radio revenue, and iHeartMedia's own forays into digital are likely to be a losing proposition.
The missed $106 million interest payment to creditors prompted iHeartMedia, Inc. and its subsidiaries to file voluntary petitions for relief under Chapter 11 of the U.S. Bankruptcy Code. The restructuring is expected to reduce the company's debt by over $10 billion, though it still has the small issue of the other $10 billion it owes to creditors. "The agreement we announced today is a significant accomplishment, as it allows us to definitively address the more than $20 billion in debt that has burdened our capital structure," said iHeartMedia Chairman and Chief Executive Officer Bob Pittman.
What does this mean for you? iHeartMedia Executive Vice President of Communications Wendy Goldberg told Gizmodo that subscribers and listeners to all iHeart stations will be completely unaffected. "iHeartMedia, iHeartRadio and all our stations are operating business as usual, and listeners and fans won't notice any difference in the programming, on-air personalities and stations they love," she said.
That's great for now, and bully for the radio stations that continue to chug along despite the seemingly insurmountable debt hole iHeartRadio has been inside for a decade, but the reality is that the terrestrial radio stations are in what is likely a losing war with digital competitors. In his statement CEO Bob Pittman touted how the company had managed to transition the broadcast empire to "a true 21st century multi-platform, data-driven, digitally-focused media and entertainment powerhouse with unparalleled reach..." But despite what appears to be some success on the surface, iHeartMedia's digital offerings—last year the company touted that its services had 100 million registered users—are unlikely to be a profitable path forward either. The reality is that digital audio is a very tough model even for the very best services, and counting on continued user growth to counter an overall decline in revenue from terrestrial radio isn't a viable option, as iHeartMedia's current predicament illustrates. Indeed, though companies like Spotify and Pandora are eating into iHeartMedia's bottom line, they aren't doing so well themselves.
Pandora, with its 5 million paid subscribers and 74 million active users as of 2017, has been struggling financially. It lost $343 million in 2016, and $518 million in 2017. Spotify, which filed to go public earlier this month, posted a loss of around $1.5 billion in 2017, and has never turned a profit, even with its 39 percent increase in revenue from 2016 to 2017, according to the Wall Street Journal. The company claims it will achieve profitability, but neglected to mention how many users it would need in addition to its current 71 million paying customers it had at the end of 2017.
G/O Media may get a commission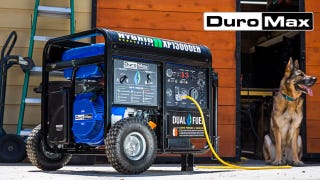 Black Friday Sale
DuroMax Generator Sale
It's pretty clear that terrestrial radio is the past and the digital versions of its future don't add up yet. No one seems to have a plan for what happens next.