"Maybe you think comics are pictures of people walking and talking and beating each other up. Well, comics are art, which means... new ideas, new innovations." A rarely seen 1978 documentary about the comics business has shown up online for the very first time, and it's must-watch material for folks who want to see some of comics' most important talents in their prime.

A rare copy of "The World of Comic Books"—owned by Word Balloon podcast/host John Siuntres—showed at Comic-Con International four years ago but, as far as I can tell, it's never been available online before. I came across it via the Twitter timeline of author Sean Howe, who wrote the seminal Marvel Comics: The Untold Story. First screened on Canadian television 39 years ago, "The World of Comic Books" offers a peek at the internal processes of DC and Marvel editorial at a time when the medium was trying to be taken seriously.
Narrated by Jonathan Winters, the film apes the bombastic style that was in vogue in superhero comics at the time, complete with groan-inducing sound effects. But, despite that, it captures a rare glimpse of the people who made classic comics hashing out ideas with each other. One sequence shows Denny O'Neil, Neal Adams and Julie Schwartz as the creators talked about the famous cover of Superman vs. Muhammad Ali with the late editorial legend.

Another dramatically staged interview has Jim Steranko holding forth about putting film noir elements into his comics, with the creator coming across as if he himself is a private investigator. And, with a Black Lightning show on the way, it's captivating to see artist Trevor Von Eeden at age 17 working on the character's first issue. "World of Comic Books" also looks at the fan culture of the time, with clips from a late 1970s comics convention and interview segments with Ed Summer, the collector/historian who owned the Supersnipe Comic Art Emporium. Cosplay, critical consideration of craft, and creative collaboration on camera… if you care about any of these things you should watch "World of Comic Books." And, you're a reader who happens to know anything about the documentary short, please get in touch with me via e-mail.
Update, 05/01/17, 10:28 PM: Some more details have emerged about how "The World of Comic Books" got onto YouTube, via people who've been involved in the journey.
G/O Media may get a commission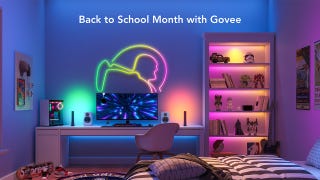 Back to School
Back to School Month with Govee Sale
From Word Balloon's John Siuntres:
Here's what I know...

The film was distributed to schools and libraries thru a New York company called Lucerne . It's not part of their current catalog and they had no info on the parent company that produced it. The Canadian TV show it was made for was called "Behind the Scene."

Former DC editor & publicity director Mike Gold (who's the guy at the start of the film looking at detective comics #1 ) said the sessions were filmed in 1979 . The Trevor Von Eeden/editor Jack Harris & the Denny O'Neil/Neal Adams Julie Schwartz sessions were shot well after the books were already published .

You can see a very young john Romita Jr. when he was an intern in the Marvel scenes. Have not ID'd the Marvel artist working on the Spidey cover sketch. 
From film researcher Brian Krey:
I read your article about "The World of Comic Books" (1978) on io9 today with great interest. From 2010-2014 I worked as a researcher at the Streamline Films archive in New York City. In 2013, Streamline's founder, Mark Heller, purchased a 16mm print of "The World of Comic Books" from a film collector. We transferred it to high-quality Betacam videotape (the 2385 you see in the upper left hand corner means that it was on our 2385th Beta tape) and digitized it. We then had Elias Savada, film historian and copyright expert, ascertain that it was never registered for copyright. So, yes, the film is indeed in the public domain. I then painstakingly went through the film, identifying all the Marvel and DC staffers onscreen (I am a lifelong comic fan.) My notes were then used by the producers of the PBS miniseries "Superheroes: A Never-Ending Battle" (2013), who ended up featuring quite a bit of footage from it on their show.