An alarming report put out by the Centers for Disease Control shows that the total combined cases of several sexually transmitted diseases have reached an "unprecedented" high in the United States.
Is AI Moving Too Fast? | Future Tech
Reports of chlamydia, gonorrhea, and syphilis—the three most commonly reported STDs in the United States—reached new heights last year, according to CDC's new report. Last year alone saw 1.5 million cases of chlamydia, nearly 400,000 cases of gonorrhea, and nearly 24,000 cases of primary and secondary syphilis (P&S)—the most infectious stages of the disease. From 2014 to 2015, cases of P&S jumped a whopping 19 percent, while cases of gonorrhea and chlamydia shot up 12 and 15 percent respectively.
"We have reached a decisive moment for the nation," CDC director Jonathan Mermin in an agency release. "STD rates are rising, and many of the country's systems for preventing STDs have eroded. We must mobilize, rebuild and expand services—or the human and economic burden will continue to grow."
In terms of "eroded" systems, Mermin is referring to substantial budget cuts made in recent years, resulting in more than 20 health department STD clinic closures in a single year. Limited access to clinics has resulted in diminished access to STD testing and treatment for those in need.
G/O Media may get a commission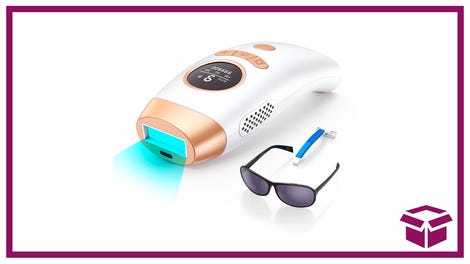 58% Off + Coupon
IPL Hair Removal Device
A closer look at the numbers reveals that Americans age 15 to 24 account for nearly two-thirds of chlamydia cases, and half of all gonorrhea cases. Men who have sex with other men account for the lion's share of new gonorrhea and P&S syphilis cases, which may also explain why rates of antibiotic resistant gonorrhea appears to be higher among this particular demographic. Syphilis among women increased by more than 27 percent last year, but females still account for less than 10 percent of new P&S syphilis infections.
To address this apparent STD epidemic, the CDC is calling on healthcare providers, the public, parents, and state and local health departments to do their part. In particular, the CDC would like to see STD screening become part of standard medical care, and a public more engaged in discussions about STDs and safe sex practices. The CDC is also asking for health departments to channel their resources towards the people hit hardest by STDs.
In terms of a cause, it's tempting to point the finger at popular hook-up apps like Tinder and Grindr. Fact is, not enough research has been done to prove a link between these services and the rise in STDs. An association is quite possible, of course, but more research needs to be done—particularly a longitudinal study that tracks the same subjects over a long period of time—to prove a link. It's also possible, of course, that better reporting and increased public awareness about STDs has resulted in more people getting tested, which in turn is driving up the numbers.
Regardless of the cause, all three of these STDs can be prevented by adhering to sex safe practices, including using a latex condom (including during vaginal, anal, and oral sex), limiting the number of sex partners, and going for regular check-ups. To protect against chlamydia, women are advised to stay away from vaginal douching.
[CDC]