Gamers have avoided wireless mice like girls with cooties, fearing the grim fate of death and teabagging induced by milliseconds of lag. Razer's Mamba and Microsoft SideWinder X8 promise total wireless freedom, sans teabagging.
Razer Mamba
Mamba is clearly Razer's most carefully designed product yet. Even the packaging was clearly agonized over: The mouse is held aloft on a pedestal inside an acrylic cube, which has a shelf system built into it holding parts like the battery, power cable and charging stand.
But the design is only part of why you're paying $130—it's to make you feel good about dropping that kind of cash. You're paying that much because Razer says it's the first wireless mouse that's actually gaming grade, with a latency of just 1ms—twice as fast as other wireless mice, and the same 1000Hz polling rate as their own wired mice. In other words, they're promising zero lag while taking the gaming mouse DPI wars to the unwanted and ridiculous new level of 5,600 DPI.
G/O Media may get a commission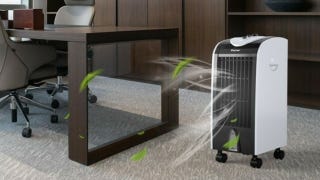 Save $10
Evaporative Portable Air Conditioner Cooler with Filter Knob
It uses 2.4GHz for wireless, just like Microsoft's SideWinder X8 and Logitech's now old-school G7 (and every other wireless device) but supposedly Mamba detects and avoids noisy channels to skirt by interference. In this respect, does live up to the hype—at least when you've got sufficient juice. After using it in a couple weekends of Team Fortress 2 and Left 4 Dead, I really didn't notice any response difference between it and my wired mouse. It's perfectly lag-free and twitchily responsive. Wakeup is also surprisingly quick, or at least it was with the 1.02 firmware—it seems a bit slower with the 1.03 update, which is designed to improve battery life. I also never noticed any interference, despite running in close proximity to my dual-band router and the X8, actually.
Where the polish rubs off and shows some rough patches are on the battery and software front. Razer claims 72 hours of "normal gaming usage" and 14 hours of continuous gaming. I didn't quite have the balls to game for 14 hours straight, but with Razer's 1.02 firmware, I never got more than 48 hours of what I'd call normal usage battery life, and when it drops to that last bar of battery, it does not play well at all. They've since released firmware 1.03, which is supposed to improve battery life. Installing the update on Vista 64-bit is something of an arcane science (Update: Razer wanted me to note that the process is a just a simple installer with XP and Vista 32, and that new mice will have 1.03 already on it). You have to boot into a mode where it accepts drivers that aren't digitally signed, and then the update process itself requires a second mouse. The configurator software, while it provides a full-featured set of options, is not as responsive as I'd like—it takes a bit to read the mouse's settings (which are stored onboard) and longer still to change them.
When your battery does get low, you can plug the USB cable into the mouse to play and charge, turning it into a standard wired mouse with the same 1ms latency. It pops easily out of the charging cube/wireless receiver, but for some reason it tends to fight you to avoid plugging into the mouse, which is my biggest problem with the otherwise smart modular design.
Ergonomically, it's one of the best mice around. It's essentially a lighter version of Razer's DeathAdder, though with the addition of a new groove for your pinkie, which took me a little bit to get used to. My only problem with the button placement is that the DPI selection buttons are not distinct enough, so if you're trying to quickly drop the DPI down to precisely snipe someone's head off, you might crank it up instead and shoot the guy in the foot. The texture is a nice use of rubber—it's not super sticky and rubbery, so your hand doesn't feel weird and gross if it gets sweaty, but it does give you a solid grip.
Shape and texture feel fantastic
Smart design touches throughout
Response time is perfect
Battery life not so great
Firmware updating process is a pain on Vista 64. for now anyway
$130 is pricey!
SideWinder X8
The design apparently still outsourced to the Empire's mice and keyboard division, Microsoft's third SideWinder mouse cuts the cable and improves on the series in a lot of little ways that add up to making it the best SideWinder yet.
As I suspected when I eyeballed it, ergonomically it's finally designed for humans. The sharp spine has been softened into a far more pleasant hump, though it retains the same overall shame as the past two. (It's huge.) So, it's not as sleek as the Mamba, but they have finally nailed the way it should feel in your hand. The unorthodox vertical thumb buttons have been reshaped into ergonomic slopes that form a groove for your thumb, so after the initial adjustment period, this touch finally works. The metal scroll wheel isn't super fantastico to use a lot, but the on-the-fly DPI buttons have a good placement in the middle, but need to be larger—it's too easy to hit the wrong one. The textured plastic feels a little cheap, too.
It uses 2.4GHz wireless at a 500Hz polling rate (half of Mamba's) and can crank the DPI up to 4000. Playing the same games as I did with Mamba—TF2 and L4D—again, I never noticed any real difference in response versus my usual wired mouse. In other words, it seemed lag-free to me. On the DPI front, you can only pick between three steps at a time—not five, like on the Mamba or on-the-fly. One superior touch over the Mamba is the built-in LCD that displays your DPI setting—on Mamba you have to decode what the combination of green and red bars on the side mean. On the other hand, try to find where it displays battery life. (I couldn't.) Speaking of, the battery life is vastly superior to Mamba—I got over five solid days with four intense three-hour gaming sessions on a single charge.
If you had to pick a headlining technical feature (since Mamba also eclipsed its 4000DPI crown), it'd probably be that it uses Microsoft's BlueTrack technology which can track on anything. Indeed, it worked perfectly on multiple surfaces, including a a glossy plastic SteelSeries SP pad that Mamba wouldn't touch at all. (My standard surface is the cloth SteelSeries QcK+, in case you're wondering.) So if you game on crazy surfaces, BlueTrack is a definite check in the X8's column.
The charging dock/receiver is more functional and less "ooooh" than Razer's—it's a hockey puck with a groove for wrapping the cable. But what's neato is that the play-and-charge cable attaches to the mouse magnetically so there's no trying to cram it into a stubborn hole like on the Mamba.
Improved ergonomics over last-gen
Long battery life
Good response time
Shape and vertical buttons an acquired taste
Positioning of the hump for your hand makes it feel ginormous
There Can Be Only One?
Can you cut the cord and achieve sweet, wireless freedom while feeling safe that your fragging powers are undiminished? Yep. Response time felt the same for every mouse I used: X8, Mamba and my wired mice. Which means two things: Gaming-grade wireless is here (just in case you doubted it), and performance isn't the reason you should pick the Mamba over the X8.
Mamba has better design, feels better (especially if you have smaller hands) and more functional software. The SideWinder X8 has longer battery life, less finicky software and it's much cheaper. You can get the X8 for about $75, while Mamba is very much $130. As always, whether or not the frills of gaming gear is worth the extra scratch is up to you, and this is more true here than usual, given the price gap. [Razer, Microsoft]