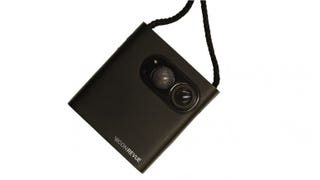 Earlier this year, I wore this pack-of-cards shaped box around my neck for two days, recording everything in front of me in VGA photo-format. Microsoft licensed the tech to Vicon a while back, who's now selling it as the Revue.
I must warn you, though—this thing is too expensive for what it is. Selling for £500 in the UK (which is around $775), the lifecaster takes a couple of 640 x 480 resolution photos a minute with its wide-angled lens, storing them on the internal 1GB memory (enough space for 30,000 photos, or around 100 hours of lifecasting).
Changes to temperature and light control the photo-taking—it can snap as many as eight photos a minute. In fact, there's some brilliant tech in there—a temperature sensor, infrared motion detector, multi-axis accelerometer and compass, but considering smartphones contain most of those components nowadays, the price just isn't justified.
You'd have to be pretty serious about recording every minute of your life, if you are considering dishing out that much dosh for a Revue. It'd be far more useful buying the Looxcie video camera instead, if you must fill social-networking sites with glimpses of your banal life. [Vicon via PopSci via GizMag]