Reddit is finally slamming the banhammer on porn posted without the permission of the people it depicts. This means no more leaked nude photos, no more revenge porn, and no more creepshots*. In an announcement, the Reddit team admitted that they'd "missed a chance to be a leader in social media when it comes to protecting your privacy" by allowing this sort of stuff to go down:
No matter who you are, if a photograph, video, or digital image of you in a state of nudity, sexual excitement, or engaged in any act of sexual conduct, is posted or linked to on reddit without your permission, it is prohibited on reddit. We also recognize that violent personalized images are a form of harassment that we do not tolerate and we will remove them when notified. As usual, the revised Privacy Policy will go into effect in two weeks, on March 10, 2015.
This is a major policy change from the site that bilked record traffic out of stolen celebrity nudes last year during "The Fappening." For years, Reddit served as a major hub for a number of different kinds of porn, including several distinct genres now prohibited. Its community and leaders took pride in the site's adamantly neutral stance towards even the most untoward images, like allowing some Dorito-dicked mouthbreather to post his ex-girlfriend's boobs was a political stance. (Which, I guess, it was— just not a very good one.)
Reddit's mission to provide a forum for open discussion has always been enmeshed with ideas that the platform must be inherently agnostic about its content, and that any limitations were tantamount to censorship. It was even reluctant to ban subreddits full of child porn in 2012, assuring readers that it did not make the decision lightly.
Several separate subreddits devoted to sharing and exchanging Creepshots—or sexually suggestive or explicit pictures taken without a subject's knowledge, like "upskirt" photos taken of women on elevators— were also vibrant communities. And while Reddit killed some of those subreddits in 2012, now it is finally banning the entire genre of photos wholesale.
It'll be interesting to see how enforcement works. According to the new privacy policy, people who want a photo taken down can contact Reddit and explain the situation, but it isn't clear whether each subreddit's mods will be the ones actually removing the content or if there will be a separate task force.
G/O Media may get a commission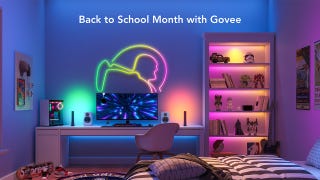 Back to School
Back to School Month with Govee Sale
This is going to piss off some old-school redditors (and pervs), but the new guidelines are specific enough that the only type of content getting banned is both illegal and potentially enormously damaging for its subjects. It shouldn't be something to agonize over. While fostering communities without censorship is a worthy cause, making this type of explicit ban is something Reddit should've done a loooooong time ago.
*Somewhere, a single tear snakes like soft rain down Violentacrez's mournful face. [The Next Web]