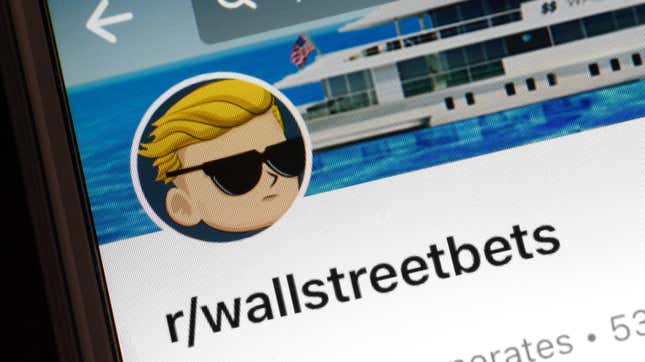 Meme stocks, "stonks," "hold the line," were among the words and phrases popularized by the WallStreetBets community. But a new lawsuit challenges the very idea of ownership over that community, or more specifically, who should be able to monetize the very name of the famed subreddit.
On Wednesday, the original creator and mod of the r/WallStreetBets subreddit Jaimie Rogozinski sued his former host Reddit. He alleged that Reddit banned him as moderator after he tried to monetize the name of the famed "stonks" subreddit, only to turn around and try to do the exact same thing.
WallStreetBets became major news in 2020 with the GameStop "meme stocks" craze. The subreddit jumped to more than 1 million subscribers, and some made it rich, some got sued, while some major players went broke, as is always the case when people play the stock market. Rogozinski argued that Reddit had retaliated against him after he tried to file a trademark application for WallStreetBets, arguing that Reddit itself was trying to capitalize on the memes stocks craze created by the subreddit by filing its own trademark registrations on the WallStreetBets name.
"This is what winning looks like," the lawsuit reads. Rogozinski also wrote a book called WallStreetBets: How Boomers Made the World's Biggest Casino for Millenials and helped launch an e-sports competition, but argued neither had anything to do with the subreddit he founded in 2012. WallStreetBets now has 13.6 million subscribers, who sometimes call themselves "degenerates."
"On Reddit, just about everyone, to include aspiring pornographers and scam artists, can find a place, everyone that is except Mr. Rogozinski," the lawsuit reads. "Mr. Rogozinski's true offense was trying to control the brand he created in the first place."
A Reddit spokesperson provided the following statement:
"This is a completely frivolous lawsuit with no basis in reality. Jaime was removed as a moderator of r/WallStreetBets by Reddit and banned by the community moderators for attempting to enrich himself. This lawsuit is another transparent attempt to enrich himself. It's telling that he is filing this suit three years after he was banned from r/WallStreetBets and long after the community rose in mainstream popularity without his involvement. We'll respond directly in court and continue to protect the best interests of the communities and moderators on our platform."
Rogozinski wants his account restored, for Reddit to take down its trademark application, and to disgorge any profits its made off the WallStreetBets brand. Rogozinski applied for a WallStreetBets trademark in March 2020, followed up by Reddit applying for a similar trademark in May, according to information from the U.S. Patent and Trademark Office.
Rogozinski that the site suspended his account for "attempting to monetize a community." Reddit's user agreement at the time only banned people from getting "compensation or favor from third parties," according to the suit. He argued his book and e-sports competition company he founded were not related his work on the subreddit. The site suspended his account for a week, but after that time it permanently removed him as mod.
On Tuesday, The Information reported based on anonymous sources familiar with the matter that Reddit is planning to go public sometime later this year, likely in the latter half of 2023. This question of potential Reddit stocks has confounded the WallStreetBets community. Some members feared that Reddit will try to "monetize the shit" out of the subreddit and other high profile user communities.
Co-founder and CEO of Reddit Steve Huffman, who also goes by "spez" on the site, has previously cited that WallStreetBets brought "millions" of new users to the platform. He called the subreddit "one of my guilty pleasures on Reddit."
In the insular and rabbit communities like those found on r/WallStreetBets, things are never so clear cut. In 2021, the community devolved into a bitter struggle for control by some of the old guard mods and a newer cohort. Exiled mods attempted to start a WallStreetBets 2.0 as a kind of blockchain-based DAO (AKA a decentralized autonomous organization) to allow more controversial crypto trading among "stonks" hoarders.
According to The Wall Street Journal citing a source "close to Reddit," Rogozinski's reputation soured among some subreddit users when he posted about a live trading competition sponsored by an outside firm. The unnamed source claimed the remaining WallStreetBets mods still on the forum banned his account from the subreddit entirely.
Others have tried to monetize the WallStreetBets name. Patent records show folks who abandoned a trademark for a WallStreetBets crypto token.