The graphic designer Deborah Sussman died at the age of 83 this week, leaving behind a technicolor legacy. She was perhaps most famous for designing the graphics and signage for the 1984 Summer Olympics, which transformed Los Angeles into a dazzling playground of magenta and teal. But Sussman also left her mark on cities around the world.
Sussman's career spanned six decades; in fact, her first job out of college was working in the office of design legends Charles and Ray Eames. By the time she launched her own firm in 1968, she was already collaborating with other legends of L.A.—like a young Frank Gehry—on storefronts and interiors for companies like Standard Shoes and the department store Joseph Magnin. (Apple even hired her to design graphics for its campus, but Steve Jobs didn't like the results.)
By the time Sussman merged her firm with that of her husband, architect and planner Paul Prejza, in 1980, Sussman's practice had grown in more ways than one. Now she was working at urban scale, developing architectural signage and wayfinding systems for museums, parks, transit systems, entire cities. Her heart was always rooted firmly in Los Angeles, yet as a global force she took on commissions all over the world. These images make it evident why she was in demand: She was able to take a simple message and make it a bright, beautiful beacon in an increasingly busy city.
---
LA 84 | Los Angeles
G/O Media may get a commission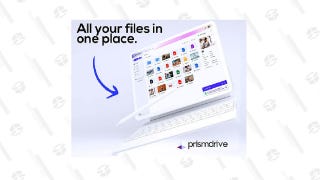 Save 97%
Prism Drive Secure Cloud Storage: Lifetime Subscription
I've written several times about the huge financial success that the Games were for Los Angeles, and that was largely due to Sussman's contributions. Her design team opted for budget-saving temporary structures with a light footprint and cost-effective signage made from cardboard and inflatables, putting their energy into high-impact colors and patterns instead.
---
Duke Energy Center | Cincinnati
Cincinnati's convention center welcomes visitors with a illuminated sculpture on its facade that can be seen as part of the skyline. The pixelated letters are actually made from a variation on scaffolding which is lit from within.
Grand Park | Los Angeles
A pretty new park for L.A.'s downtown is meant to represent the melting pot of cultures who have made L.A. their home. Signage proclaims "a park for all" in dozens of different languages, and informational placards tucked into the landscape describe where L.A.'s most common plants originated.
---
City of Philadelphia
Signage throughout Philly's downtown reflects the city's colonial heritage with flag-friendly colors of brick red, cornflower blue, and white.
---
Palms Casino | Las Vegas
An illuminated, animated Vegas sign was probably the best possible place for Sussman to exercise her oversized sense of style. The Palms' graphics were inspired by Maynard Dixon's colorful paintings of Western landscapes.
---
City of Santa Monica
A new logo which represents the city by the Pacific was the first step that Sussman's firm took in visually separating this once-tiny town from the greater Los Angeles area. All the street signs were redesigned with Sussman's new branding guidelines, evoking a sandy beach.
---
Joseph Magnin | Los Angeles
In the 1960s, the department stores were known for their snappy, oversized "supergraphics" which not only ringed the building but also were carried inside to create interior signage.
---
Universal Cinemas | Universal City
The first IMAX theater as part of Universal City's complex needed to be as iconic as films themselves. Sussman opted for popcorn confetti against a California sunset sky.
---
Walt Disney World | Orlando
From the the freeway exit to the pedestrian paths, each element of Walt Disney World's signage is customized to bring excitement to the visitor experience. In addition to a certain mouse peeking over the interstate signage, black ears are found atop every major sign.
---
Flyaway | Los Angeles
Sussman worked with L.A.'s Metro design team many times over the years, designing the graphics and station signage for the dedicated buses which run from several locations around the city to LAX.
---
All images via Sussman/Prejza and Deborah Sussman Loves Los Angeles