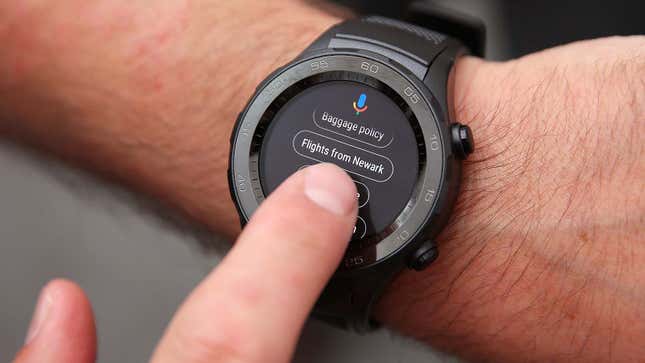 Currently, when it comes to smartwatches, it's the Apple Watch and then everything else. However, if a report from Android Police is any indication, Google might have a plan to wrest some sales away from Tim Cook and co.
Rob Savage on Collaborating with YellowJackets' Sophie Thatcher
Unfortunately, there doesn't seem to be a lot of concrete details so far, with even the "Google Coach" name reportedly not set in stone. However, according to Android Police, Project Wooden (Coach's internal codename) is a health-centric wearable under development that will not only track important metrics like heart rate and movement, it may also serve as a guide by tracking your location and potentially suggesting meals and the best time to eat.
Google Coach will likely be powered by Wear OS—formerly known as Android Wear—although it seems there's a chance a companion app will help carry over some of the service's health and fitness monitoring to phones as well. To prevent Google Coach's notifications from clogging up your life, Android Police says Google may end up adjusting popups into a system that looks and functions more conversationally.
While all this might seem a bit nebulous, and even potentially intrusive, the idea behind Google Coach makes a lot of sense based on what we know so far. After years of trying, the concept of the smartwatch as a tiny, wrist-based computer just hasn't panned out. That's because a smartwatch with enough performance to do more than text, view notifications, or check the weather tends suck down power rather quickly, with even the latest Apple Watch typically needing to be recharged every night. Additionally, smartwatches and their tiny displays are simply not so great at performing many smartphone tasks, which has led to some high-profile services killing support for their Apple Watch apps.
Instead, companies have been gravitating towards using wearables and smartwatches as sophisticated monitoring devices in order to better keep tabs on your health, mood, sleep patterns, and more. If Google can roll all of this functionality into its rumored Coach, it might finally have a formula for how to make Wear OS a success.

Also, it seems the Google Coach is entirely different from the rumored Pixel Watch, which based on info from @evleaks, could be announced alongside the Pixel 3 later this fall and feature a new Qualcomm 3100 processor, a round screen, up to 1GB of RAM, and built-in 4GLTE.
We've reached out to Google for comment on the Coach report.