It's always best not to put too much stock in the old familiar "supply chain sources," but 9to5Mac knows a guy who knows a guy who has confirmed what we've always thought about Apple's next MacBook Pros: They're going to be thin, fast, and gorgeous.
Oh, and Apple's ditching Ethernet.
According to the report, this summer's MacBook Pros are indeed going to be much thinner than the current iteration, but won't just be MacBook Air clones; they're going to be flat, not tapered, more of a pancake than a blade. No actual dimensions are available at this time, but given that ultrabooks are typically under an inch thick, expect something within that ballpark.
To achieve that, the MBP is going on a strict diet of no optical drives and no Ethernet port (which, hey, hope you went with the SuperBoost XXXtreme Wi-Fi bundle). It would also make sense for the new MBP to follow the MBA into SSD exclusivity, but 9to5Mac doesn't appear to have intel on storage. An SSD might also have too limited a capacity for Apple's pro-level users.
Other highlights that seem on surer footing? That retina display, which had been foretold by the ultra-high resolution app icons in the latest iteration of Mountain Lion. And USB 3.0 will make for speedy transfers. Wait, you're thinking, Why would Apple embrace USB 3.0 when it has Thunderbolt already? And that is a very appropriate question! Apparently the new MBP will offer both, which sounds like a decent hedge on Apple's part in case Thunderbolt doesn't take off for some time. Which, at this rate, fair assumption.
G/O Media may get a commission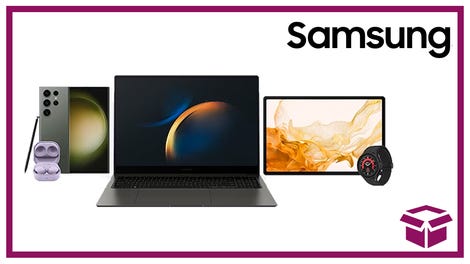 24 hour deals
Discover Samsung - Daily Deal
So again, the 9to5Mac report tells us much of what we'd already suspected. But between it and those highly appealing leaked benchmarks from earlier, it's at least comforting to know that we're at this point unlikely to end up disappointed. And any remaining questions should be answered at WWDC in June. [9to5Mac]