Nike has fired the majority of the team responsible for its FuelBand fitness tracker according to a report from CNET today, which also claims that the company is jettisoning wearable hardware for good. An anonymous source says that roughly 55 employees were let go from Nike's Digital Sport hardware team, which covers industrial design and engineering for wearables.
It sounds as though rumblings of the news surfaced on Secret at least a week ago, but CNET cites emails from Nike spokesman Brian Strong, who commented that the company will "make changes within the team, and there will be a small number of layoffs." A different, anonymous source says that roughly 80 percent of the wearables team has been cut and the remaining staff have been redistributed to other divisions.
As Gizmodo's own Leslie Horn described in a review in November, Nike has struggled with its wearables—both the FuelBand in its first iteration and the second generation SE, which left much to be desired. As competition amongst fitness trackers heated up this year, Nike has struggled to keep up with its peers. And with Google and Apple closing in on the same turf, it seems as though Nike is taking the safer road by bowing out of hardware now.
But keep in mind that just because Nike isn't making hardware any more doesn't mean they're completely out of the game. The company will reportedly continue developing software for wearable devices. Which could mean that if—really, when—Apple introduces its smartwatch later this year, Nike could be a partner, as one analyst told CNET's Nick Statt:
Apple is in the hardware business. Nike is in the sneaker business. I don't think Apple sees Nike as competitive. It's likely that an Apple hardware offering would be supportive of the Nike software.
G/O Media may get a commission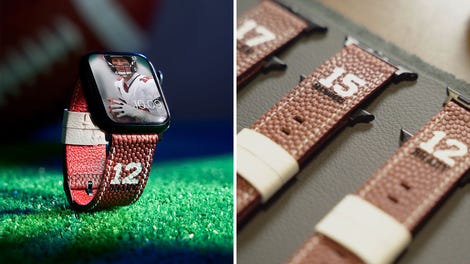 Official NFL PRODUCTS
Official NFL Apple Watch Bands
Will we see an Apple smartwatch running Nike software? It's too soon to tell—but, as Statt comments, it's worth mentioning that Tim Cook kept his FuelBand on to introduce the iPad Mini in 2012. [CNET]