Peter Thiel is reportedly leaving Silicon Valley. According to the Wall Street Journal, the venture capitalist and embattled Trump supporter is moving from San Francisco to Los Angeles and taking some of his businesses with him. He's even reportedly mused about resigning from the Facebook board. Why? Peter Thiel apparently needs a safer space to broadcast his radical libertarian beliefs.
Citing unnamed sources, The Journal reports that Thiel now wants to "reduce his direct role in the Silicon Valley tech industry that he helped to shape." (And likes to brag about.) In doing so, the conservative billionaire will relocate Thiel Capital and the Thiel Foundation along with their 50 employees to a new headquarters in LA. These two organization oversee Thiel's personal holdings. Founders Fund and Mithril Capital will reportedly remain in San Francisco. Thiel will apparently live in the home overlooking Sunset Boulevard that he bought back in 2012. Well, he actually bought a historical Los Angeles house designed by legendary architect Paul Williams and then promptly demolished it so that he could build a new house.
Most curious about the new report is a source saying that Thiel's discussed leaving the Facebook board. Thiel was the first outside investor in Facebook, securing a 10 percent stake in the young social network for $500,000 back in 2004. That turned out to be a good investment, but Thiel turned into a lightning rod later, especially when he helped fund Donald Trump's presidential campaign and became a quiet advisor to the Trump administration. This lead to in-fighting on the Facebook board that certainly wasn't helped by the fact that Facebook has since realized that its tolerance of fake news affected the 2016 election and that social media might just be ruining democracy.
It's so far unclear what else Thiel will get his paws on next. One of the Journal's sources says the 50-year-old plans to launch a new right-wing media operation "to foster discussion and community around conservative topics." Which would be a curiously predictable move for Thiel, the man who financed a lawsuit with Hulk Hogan that ultimately lead to the bankruptcy of Gawker Media, Gizmodo's former parent company. Thiel later said that he did so because Gawker violated his privacy by reporting on him.
One way to control the press is to bankrupt news organizations you don't like. Another is to start your own. Apparently, Thiel wants to do both.
G/O Media may get a commission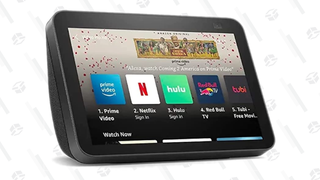 We'll see if Thiel gets what he wants. Thiel clearly seems to want a safe space to pursue his libertarian dreams—dreams like building utopian cities in the middle of oceans so that national laws don't apply there or possibly even receiving transfusions of young people's blood so that he can live longer. It could all go to hell in an instant, sure, but don't worry. Thiel could jet off to some remote stretch of New Zealand, where he gained citizenship in 2011. It's definitely safe there, Thiel thinks. If all else fails, he can ultimately hide in his panic room, because yes, Peter Thiel built a panic room in his apocalypse-friendly home at the end of the world.