Tesla seems to be working out its manufacturing bottleneck issues that were partially responsible for a $619 million loss last quarter. But the company's solution might be causing a global battery shortage.

According to a report from the Korea news outlet ETNews, Panasonic recently gave most of its cache of batteries in Japan to Tesla so that the automaker and energy-storage company could keep up with its ambitious production schedule. Tesla and Panasonic both operate Gigafactory 1 in Sparks, Nevada. Tesla primarily uses the factory to produce electric vehicle batteries as well as Powerwall and Powerpack batteries for home energy storage.
Panasonic is the biggest automotive lithium-ion battery supplier in the world. Tesla makes battery packs for its vehicles by adding its own technology to Panasonic-manufactured battery cells.
In early October, Tesla struggled with a "production bottleneck," but by the end of the month, Panasonic stated it would increase battery output at the Gigafactory, now that it understood the issues that led to the bottleneck and could automate some of the processes that had been done by hand.
But this likely did not help Tesla fix any immediate shortage issues. ETNews claims that Panasonic is coping with the shortage by shipping batteries in from Japan. And many Japanese companies in need of cylinder batteries have turned to other suppliers like LG, Murata, and Samsung—but those companies have not been able to meet the demands.
G/O Media may get a commission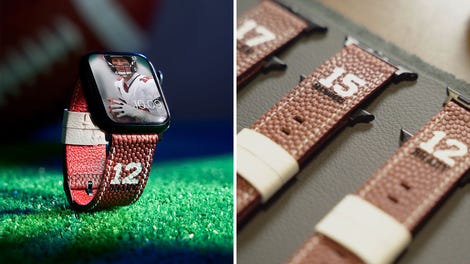 Official NFL PRODUCTS
Official NFL Apple Watch Bands
Reportedly, companies that had contracts before 2017 aren't affected by the shortage, but several other manufacturers have not been able to place orders for batteries, and won't be able to order more batteries until the middle of next year.
It is worth noting that this report comes solely from ETNews, which cites unnamed sources in the Japan battery industry. Electrek, a news site that covers electric transportation, has expressed skepticism in its own report: "Our understanding at this point is that Tesla's issues at Gigafactory 1 are with battery module production, which creates a bottleneck for the production of Model 3 battery packs," Electrek editor Fred Lambert writes. "Model 3 battery packs are made with 2170 battery cells made by Panasonic at the factory. Unless Tesla and Panasonic are not being straightforward about the issues at Gigafactory 1, there's no reason for them to be sending any cells from Japan for Model 3 production."

Tesla did not respond to a request for comment on the report.