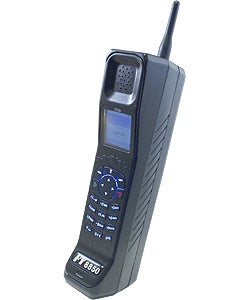 Whatever the counterculture trend is now, Le Car or Cadillac, I've decided that bigger is better. I don't mind the Zune's heft, and I'm wishing I'd bought the 17-inch Macbook instead of the 15.
So, I'm very happy to find this classic moto styled brick phone with a GSM SIM slot inside. And the china-import even has MP3 ringtone support, a speakerphone, SMS, a color screen, and other modern niceties. It is 3/4 of a pound, and nearly 8 by 2 by 3 inches in size, though. At $170, it's a steal, when you think about it per pound. One wish — I'd like a shoulder strap, and a chiropractor on speed dial number 1.
Stat smather, post jump.
* GSM Network GSM 900 / GSM 1800 / GSM 1900
* CSTN, 65K colors LCD Display
* 128 x 160 pixels, 29 x 35 mm Display Size
* Speaker phone
* Screensavers
* Wallpapers
* Polyphonic (32 channels), MP3 ringtones
* 500 Phonebook entries
* Call records: 10 dialed, 10 received, 10 missed calls
* SMS Messaging
* Java MIDP 2.0
* English and Chinese English languages and text input
* T9 text input with Chinese Pin Yin
* Calendar
* Calculator
* Alarm Clock
* Rechargeable battery
* Dimensions: 195 X 41 64 mm (7.69 X 1.63 X 2.5 inch)
* Weighs 12.5 oz. (including battery)
80's Brick Cellphone [Thanks Curtis!]