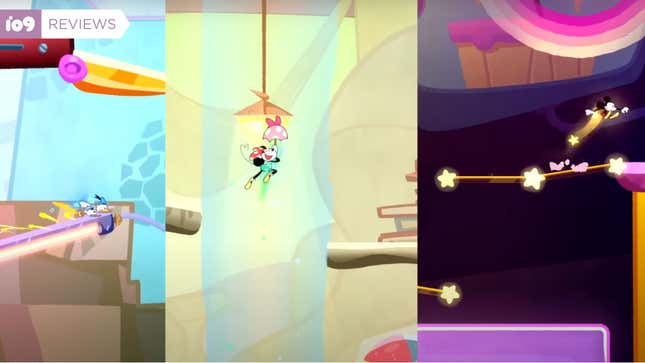 Mickey and friends are summoned to the rabbit-filled land of Monoth in Disney Illusion Island, a new game for Nintendo Switch. They answer the call to protect it from impending doom because they're the heroes from all the journeys we've seen them on—no matter that Donald points out all those adventures were just pretend.
Disney Illusion Island starts off with a short that establishes its Galaxy Quest-esque premise, you could say, if Galaxy Quest were a stylish, story-driven 2D animated platformer from Dlala Studios and Disney Electronic Content. Here you can play as Mickey, Minnie, Donald, and Goofy to explore the mysterious island and recover the three magical tomes required to protect the land from a mysterious evil.
With single or three-player modes, you can unlock special abilities to take on the challenges thrown your way as you face symbiote-like creatures, which you can't fight—which is probably the biggest letdown in an otherwise adorable and wonderfully animated platformer game filled with hidden Mickeys and fun Easter eggs for Disney fans.
Click through for some play through examples of what we liked and didn't about Disney Illusion Island, now available on Nintendo Switch.