I'm pleased with my decision to wait a generation and upgrade from the Samsung Galaxy Watch 4 to the Galaxy Watch 6. Samsung's newest smartwatch launched alongside its foldables, the Z Fold 5 and Z Flip 5. It brings a slightly larger display, a new processor, and improved wellness tracking. It's also backward compatible with all the watchbands I've bought over the past two years, which keeps things easy.
But in terms of pushing wearables forward, the Galaxy Watch 6 isn't breaking new ground. I'm okay with that, though. I'm satisfied with the place we're at now, where I know what to expect from Samsung and can continue my wellness journey without feeling like I'm missing out by not having an Apple Watch. The Galaxy Watch 6 is a decent update from its predecessors, even if incremental. And if you were thinking of trying Samsung for a smartwatch, now is the time to hop on board.
A bigger, better screen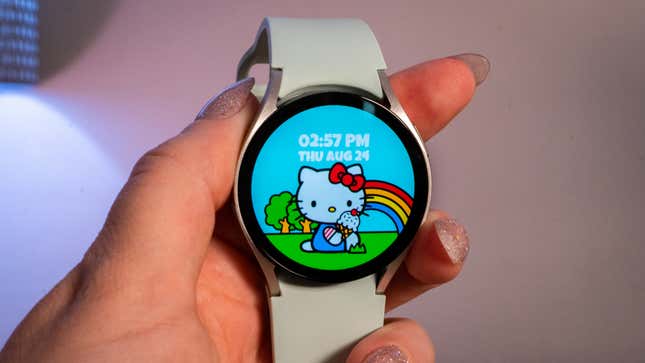 In terms of design, the Samsung Galaxy Watch 6 remains almost unchanged from the Watch 4/5. It has the same aluminum borders that extend out and connect the watchband. It has the same power button and action button on the side. The display has a capacitive strip around the edges, so you can scroll through a page by running your finger around the rim of the watch rather than physically swiping. I never liked this mechanism, so I don't use it, but it's a legacy Samsung Galaxy Watch feature that keeps the brand's fans happy.

The best part of the Galaxy Watch 6 is its Super AMOLED display. Samsung thinned the bezels compared to the previous incarnation and increased the display size by 20%. It is now 1.3 inches on the 40mm Watch 6 compared to 1.19 on the Watch 5 and 1.5 inches versus 1.36 on the 44mm version. Having more space for my watch faces has been excellent, even if the increase is only minimal. It also made glancing at information easier for me. Previously, I'd have to squint toward the watch to see which notifications were blaring at me.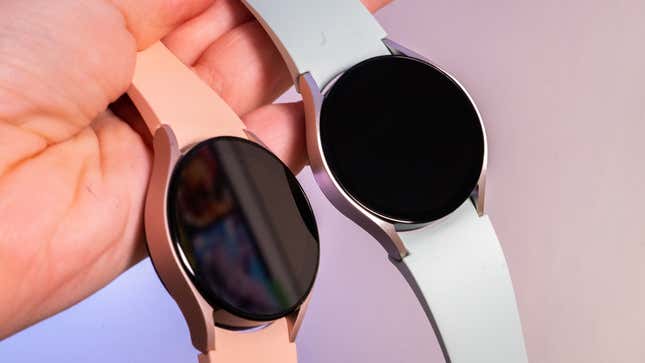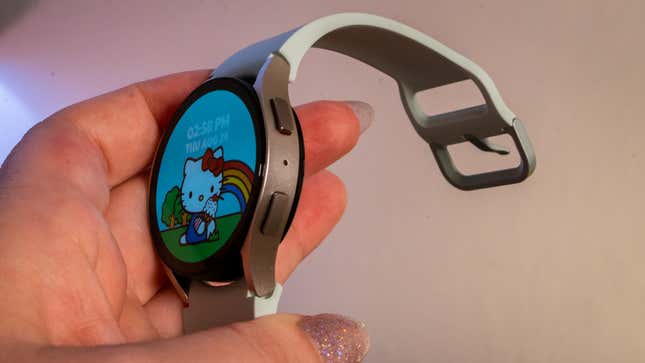 The components inside the Galaxy Watch 6 have been upgraded from the Galaxy Watch 4/5. It features a Samsung-made Exynos W930 processor, which the company says is an 18% improvement over the Watch 5's Exynos W920. It also has 2GB of RAM instead of 1.5, which helps facilitate smoother scrolling and faster app launches. Even the animations that count down to start a workout don't feel as slow as on the Watch 4, which had the same amount of RAM as its successor (You can turn this countdown off, but I like a little lead-up).

The Galaxy Watch 6 remains as durable as its predecessors. It's IP68 rated for water and dust resistance—the same as the Galaxy S23 series of smartphones—which should provide all the peace of mind necessary if you wear a smartwatch to swim and hike. It comes with 16GB of storage space, ample enough for a few playlists for a run. It's also available with optional LTE connectivity.
Backward-compatible watchbands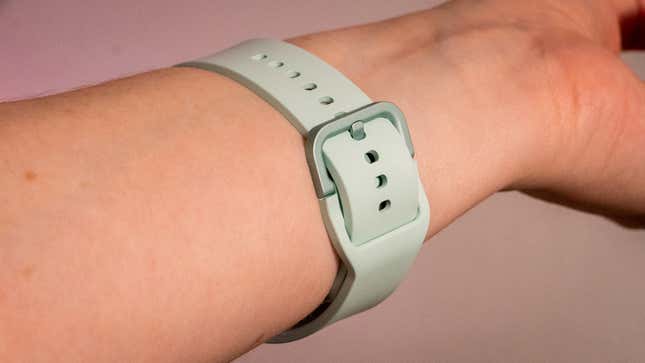 One of the reasons I stuck with the Samsung ecosystem for wearables is that it takes any standard 20mm watchband. Every band I've bought since the Galaxy Watch Active is still compatible with the Galaxy Watch 6, and as you can imagine, I've accrued quite a few over the years. Samsung also updated the clasping mechanism on its new branded watchbands, making it more manageable for claws like mine to push a button and swap them out. I struggle with the little pin that the rest of the industry has adopted, though it's better than requiring a screwdriver to swap out watch bands like in the old days.

I pre-ordered my Galaxy Watch 6, so Samsung threw in a free black fabric band, which cost $50. Unfortunately, I'm not too fond of it. It's itchy and not my style. I felt the same way about Google's Pixel Watch stretch band. Perhaps fabric watchbands aren't for me, but that doesn't matter because I can buy anything else from anywhere else to customize the Galaxy Watch 6.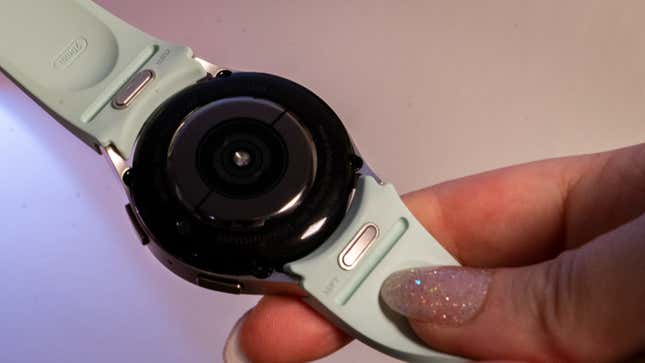 Track almost everything
The Galaxy Watch 6 runs Samsung's One UI 5 Watch on top of Android's Wear OS 4. Samsung is the first to usher in Wear OS 4, which is expected on other Android smartwatches soon. It's the best that Android users have currently.
The software experience between the Galaxy Watch 6 and the Galaxy Watch 4 remains relatively unchanged, save for a few aesthetic tweaks. For instance, I noticed that Samsung updated some of the graphics on the Watch 6, like when it reminds me to get up and move—it's now arrows instead of feet shuffling on screen. There's also more depth to some of the iconography, but that may have been there all this time, and I couldn't tell because the screen was too small.
The Galaxy Watch 6 is a formidable data aggregator for wellness as long as you're not training for anything too seriously. In addition to the usual steps and mileage tracking, it has built-in sleep tracking and training, measures body composition, and offers personalized heart rate zones after workouts. Samsung has also added a feature that helps detect if you have an irregular heart rhythm. None of this is supposed to keep you from getting sick or replace health care, but it's nice to have this data when seeking answers.
My favorite part of Samsung Health is the built-in menstrual cycle tracking, which now takes advantage of the built-in temperature sensor debuted in the Galaxy Watch 5. Unfortunately, I don't have enough data to speak on the feature yet, but I plan to follow up later this year.
If you're the X-Games-loving type, I—a mostly sedentary nature walker—typically suggest you seek smartwatches from brands tuned for mountain biking, swimming, and anything else that might need numbers at a professional level. You might even check out the Galaxy Watch 5 Pro. But for the everyday person, the numbers Samsung spits out each day are enough for figuring out your fitness and health relative to where you've been.
Despite the existence of Health Connect, Wear OS still has issues sharing data between other health and wellness apps. I'm still using a hackneyed way to sync my Samsung Health numbers with Google Fit. Samsung does offer built-in syncing with Strava, which has become my default exercise tracker as it works with most of my equipment, including my Peloton Bike+. But it would be nice not to have to rely on a folder of fitness apps to track my comings and goings.
Battery life could always be better
I had intermittent issues with the Samsung Galaxy Watch 4 over the past two years, with the battery needing a charge by the early afternoon. It would happen randomly, usually after a software update or if an app hung in the background. I never did figure out the culprit. But I was still satisfied with the Watch 4's daily battery life when it didn't have those episodes, and I expect the Galaxy Watch 6 will be much the same experience.

The Galaxy Watch 6 has a bigger, 300 mAh battery than the Galaxy Watch 4/5, but I still live like it's my Galaxy Watch 4. Samsung says you can get up to 40 hours of battery with the always-on display off, but I charge it every night since I don't sleep with a watch (I sleep with the Pokémon Go Plus+). I have the LTE-connected model and don't use the always-on display.
If I've had a day of light activity during which I was at home, connected to wi-fi, and only out of the house to run errands, I typically have about 60% battery left before it hits the charger. It's about on par with the Watch 4, and at that percentage, it's usually able to make it into the next day until you can finally charge.
Now, if I track a workout during the day, the battery is much lower before it hits the charger. I took my usual two-mile route around the neighborhood and did a 10-minute Peloton arms workout with the watch tethered as a heart-rate monitor. It used about 9% of the battery.
If you go out all day in the city with the Galaxy Watch 6 and use your watch to navigate on Google Maps or respond to texts, you should be fine until you're back home. But if you're going somewhere overnight, remember your charger. At the very least, the Watch 6 charges fast when connected to a beefy charging brick.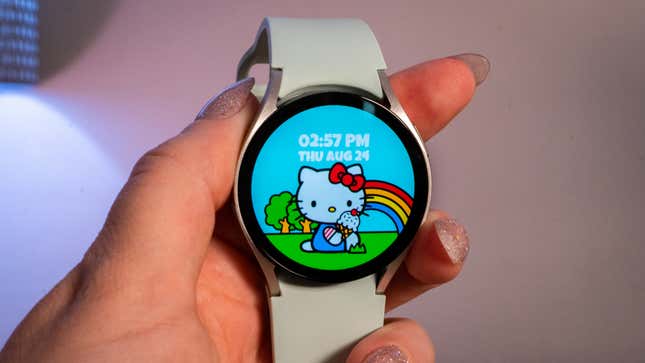 I'm an Android user. We don't have the Apple Watch on this side of the fence, so we make do with what's available. Currently, Samsung, Google, and Mobvoi are the only brands worth dropping money on for the casual wearer, but each has its caveats. The Pixel Watch is still figuring out its look and feature set, and the Mobvoi TicWatch Pro 5 is decidedly masculine, which limits it to a particular audience of users. Samsung is the only one with a spectrum of wearable offerings, some of which are more femme than others, and more customizable. In addition to the Galaxy Watch 6 in its two sizes, there's also the Galaxy Watch 6 Classic.
Samsung's smartwatches are still the best Android watches. They offer the most choice, the most consistency, and the most features. Currently, Samsung's Galaxy Watch 6 is also the most backward compatible with standard watchbands, whereas the Pixel Watch uses its proprietary mechanism. Samsung may not have changed the game, but it keeps this ecosystem chugging along.