Yesterday, venture capitalist and Y Combinator president Sam Altman whined on Twitter about getting booted from the Ritz bar in London for wearing sneakers. The tweet devolved into a dreadful discussion about whether any city that bans sneakers in upscale places can really be serious about startups. Really.
Fashionable as the 31-year-old's blue shoes seem, the Ritz's dress code clearly states that "trainers and sportswear" are not permitted, and Altman himself didn't make a big deal about being declined. When the Ritz replied to his tweet with the (hilariously British) request that he "be kind enough to email" so they can "engage" on the issue, Altman quickly said that he wasn't upset. (A request for comment from the Ritz was not immediately returned.)
Then Y Combinator co-founder Paul Graham—who is an Englishman and possibly trolling—waded into the fray by saying that this incident proved that London needed to get on San Francisco's level.

G/O Media may get a commission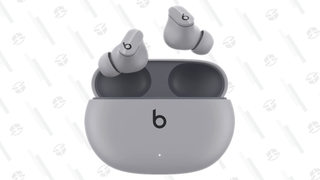 Responses included some arguing that people shouldn't all need to adapt to startup culture.
Then this guy from Andreessen Horowitz tweeted this:
Hmmm.
Graham is probably right that most hotels in San Francisco are more laid-back about clothing than London. But nobody forced Altman to go to the historically fancy Ritz. Surely, some hip hotel in Shoreditch would welcome him and his glorious aquamarine sneakers. But a city can be friendly to programmers without erasing every other part of its culture. With San Francisco quickly being overrun by its start-up culture, it's good that some places don't feel the need to cater.
And honestly, Sam Altman. Maybe it's time to buy some big boy shoes before you go to one of the world's fanciest hotels.
[Twitter via Business Insider]