A report by the Guardian has prompted a flurry of news outlets to proclaim that North Atlantic right whales are set to become extinct. But while it's true that the whales had a very bad year, and that shipping activity and climate change pose grave threats, it's important that we don't assume the species' fate is sealed. Right whales still have a fighting chance.
"I think it is premature to start talking about extinction," Cornell oceanographer and right whale biologist Charles Greene told Earther. Still, he added, "there is reason for serious concern about the right whale population at the moment."
There are only about 500 North Atlantic right whales left on Earth, a number that has been declining since 2010. This year, things took a turn for the worse for the endangered species, when the National Oceanic Atmospheric Administration declared an "unusual mortality event" after researchers documented 17 dead whales stranded along the Eastern seaboard, 12 in Canadian waters and five in U.S. waters.
At a New England fisheries conference last week, John Bullard, Northeast Regional Administrator for NOAA Fisheries, said that given the recent spate of deaths and low reproduction rates among the estimated 100 breeding-age females, we need to consider the possibility that North Atlantic right whales will vanish without aggressive intervention.
"You do have to use the extinction word, because that's where the trend lines say they are," Bullard said, according to the Guardian. "That's something we can't let happen."
G/O Media may get a commission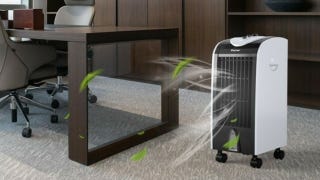 Save $10
Evaporative Portable Air Conditioner Cooler with Filter Knob
He's right: we can't let right whales go extinct, especially when these deaths are largely preventable. As Earther has previously reported, right whales are dying because they are having run-ins with ships and are becoming entangled in fishing gear. Full necropsy results from the summer mortality event are still pending, but as of last month, six of the seven carcasses examined died because of ships.

Right whales may face increased risks as rising temperatures and shifts in the distributions of their food supply cause the animals to migrate out of waters with strict protections. There's evidence this is already happening.
"The major problem with right whales extending their migration is that it is bringing them into areas where they are unprotected," Greene said. "The conservation management measures used in the Gulf of Maine," an important feeding ground, "are not taken further north in Canada, where right whales were rarely found in the past. This is why so many right whales were killed in [Canada's] Gulf of St. Lawrence last summer."
The solution is what it has always been: stricter shipping regulations and safer types of fishing gear in areas where whales frequent. More research dollars to track shifts in the distribution of copepods, the whales' primary food supply, wouldn't hurt, either.
Unlike some of his colleagues at NOAA, Greene doesn't think discussing extinction is the most productive path forward right now. He noted that this has happened with some regularity in right whale conservation circles over the last 20 years, often, following an unusual mortality event.
"The problem with all of this talk about extinction is that nobody told the right whales," he said, adding that between 1999 and 2010, the population grew from 300 to roughly 500 whales.
"The are still over 450 right whales in the population," Greene continued. The Gulf of St. Lawrence, where the whales seem to be hanging out more often, has plenty of copepods, "so, the right whales should be able to get the food they need to boost their calving rate."
"If we can provide Canadian Fish and Oceans with the evidence they need to put adequate protections in place, then I think the right whale population will start recovering again," he said.
Certainly, it isn't "too late to save them." We just have to try.