Cheap? Definitely. Garish? Perhaps. But also pure, unqualified Americana. The plastic pink flamingo has graced the grass of hundreds of thousands of residences throughout the years and become a fixture in neighborhoods throughout the US. The designer of the iconic lawn ornament has died at age 79.
Unsurprisingly, Donald Featherstone (YES HIS REAL NAME) led a colorful life. Classically trained as sculptor, he went to work for a Massachusetts plastic company in 1956, where he designed the flamingo the following year, modeled after a photo he saw in National Geographic. Until Featherstone had arrived, the decorative objects sold at Union Products were flat; he had the idea to make them 3D. Suddenly the creatures could take on a life of their own, standing, as the flamingos did, on their own two feet. He actually went on to design hundreds of molded plastic lawn ornaments. But the birds were the biggest hit.
The Leominster Champion asked Featherstone in 2006 if he thought he had contributed to what many see as a tacky urban trend:
They have been called very tacky, but more than not, they've been called fun," he said. "I've received some very touching stories about the flamingos. One in particular was a woman who was very sick, and loved her flamingos. Every morning, her father would go outside the window of her room and move her flamingos around the yard. She would wake up every day to find where he had put them.
If that's not a reason to love him, how about the fact that he and his wife wore matching outfits nearly every day of their lives:
G/O Media may get a commission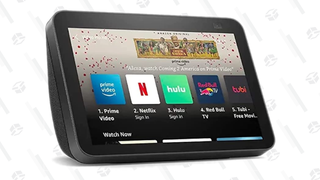 Top image, still from Pink Flamingos; photo of Featherstone AP Photo/Charles Krupa