Hope you've been saving up your pennies for this week's comic haul: There's an impressive amount of new releases that you'll want to take home and cherish for at least the next seven days. Yes, these are Comics We Crave.
Let's start with Electropolis, the new Dark Horse collection of Dean Motter's Retrofuture Deco Noir story (Preview here). Filled with robot detectives, femme fatales and the power of electricity, it's just one of many off-beat genre books appearing at comic book stores this week.
And if Electropolis' pulp fiction is your thing, then maybe the Batman/Doc Savage Special (Dark Knight Detective versus Man of Bronze!) will also float your boat, after all. Or maybe Sky Doll: Doll Factory, a collection of unseen material from the awesome European strip Sky Doll, will provide your reading material for the next few days.
But if you prefer your heroines a little less suggestible than Sky Doll, the first issue of Tank Girl: Skidmarks is probably more your speed. Unsurprisingly, we'd also point you in the direction of the debut of Locke & Key: Crown of Shadows, but we're biased.
G/O Media may get a commission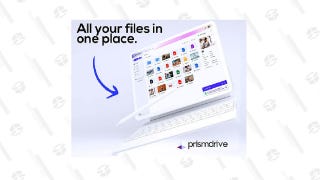 Save 97%
Prism Drive Secure Cloud Storage: Lifetime Subscription
Maybe you're looking for something you've already seen in major motion pictures? That's okay; not only is there a preview issue of the new series of Wall-E, but there's also Star Wars Purge: Seconds To Die, which follows a young Darth Vader killing off as many Jedi as possible, post Revenge of The Sith. And that's not all! There's also a paperback collection of DC/Wildstorm's recent The X-Files series.
For those who can't get enough of those superheroes, then I'd recommend the first issue of Warren Ellis' Supergod, his latest "What if superheroes were bastards?" series. Or, on the opposite end of the superhero spectrum, the Absolute Justice hardcover, collecting Alex Ross' expansive love letter to the Super Friends (No, really).
In between those two extremes, there's Dynamite's Project Superpowers: The Black Terror Vol. 1 collection, DC's Green Lantern: Agent Orange collection, which leads into the current Blackest Night storyline, Supergirl: Who Is Superwoman? (in which Sterling Gates and Jamil Igle manage to undo years of abuse and make Supergirl a likable, working character again - good job, people) and the Authority: The Lost Year Reader (reprinting Grant Morrison and Gene Ha's two completed issues of their abandoned run, ahead of Keith Giffen and other artists aiming to complete the story in their absence).
There's also Marvel's PunisherMax (Yes, one word. It's the new "mature readers" title for the character, and maybe Marvel thinks pushing words together is more adult?), Green Hulk/Red Hulk collection (Heroes' writer Jeph Loeb writes a couple of gamma-irradiated monsters in a couple of adventures), the first issue of Strange (Mark Waid's reboot of the former Doctor Strange, Sorcerer Supreme). And also, there's all manner of X-Men books: the Dark Avengers/X-Men: Utopia collection, as well as collections of Wolverine: Tales of Weapon X, Wolverine Weapon X: Adamantium Men and Wolverine/Gambit. All your Wolverine needs should definitely be met this week, let's face it.
If there are any other needs looking unserviced, I'd recommend checking out the complete list of books shipping from Diamond Distributors this week, and then remembering that your local comic book store can be found here. If this week seems overly expensive, don't worry; there's an entire skip week at the end of the year to get some of that money back. Look at it as a loan. Or something.