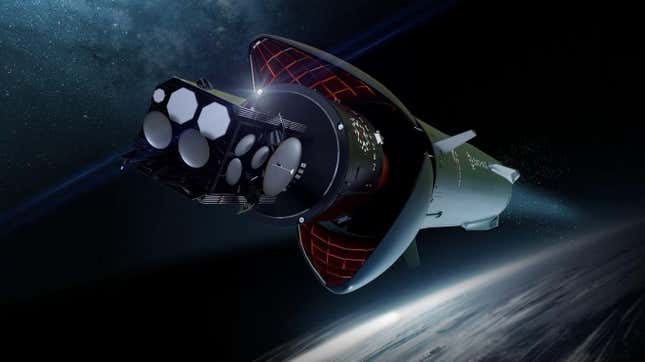 California-based Rocket Lab—the company voted most likely to compete with SpaceX—appears to be tinkering with its Neutron blueprints, as new artwork suggests.

Taylor Lorenz Talks "Extremely Online"
Founded in 2006, Peter Beck's Rocket Lab is emerging as one of the more serious competitors to Elon Musk's SpaceX. The company's light-lift Electron rocket is currently performing routine flights to low Earth orbit, launching from sites in New Zealand and the Mid-Atlantic Regional Spaceport on Wallops Island, Virginia.
To truly compete with SpaceX, however, Rocket Lab needs a reusable launch vehicle akin to Falcon 9. To that end, the company is developing Neutron—a fully reusable medium-lift rocket capable of exerting 1.53 million pounds of force at liftoff (by comparison, Falcon 9 exerts 1.7 million pounds of force). Capable of launching 13 metric tons to low Earth orbit, Rocket Lab is pitching the vehicle as "the megaconstellation launcher."
New artwork released earlier this week depicts a few subtle, yet significant, modifications to the forthcoming rocket, as covered in Teslarati. Remaining the same is the captive "Hungry Hippo" fairing design, which paves the way for a completely reusable first stage and fairing, the latter being a protective cover that protects payloads, such as satellites and spacecraft, from aerodynamic forces and heat during launch.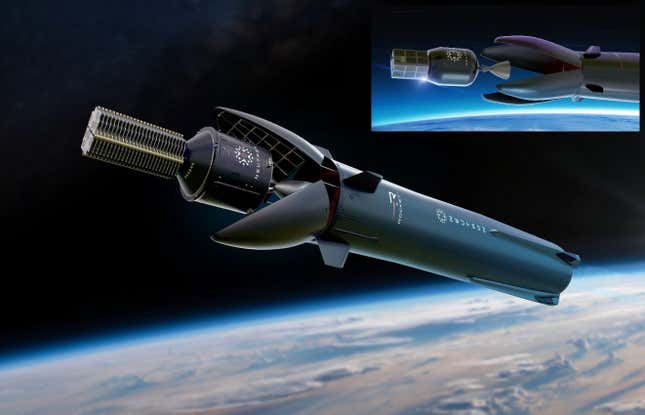 Previous art depicted a fairing comprised of four segments, unfolding much like a worm's mouth to expose and dispatch its payload. As the updated artwork reveals, Neutron's fairing will now feature two sections instead of four. This is likely an attempt to streamline the design, consequently reducing potential points of failure. Ultimately, this could lead to a more reliable rocket—a critical attribute for any launch vehicle.

Rocket Lab did not immediately respond to Gizmodo's request for comments and clarification.
SpaceX goes about this a bit differently. Each fairing half, after jettisoning from the Falcon 9 rocket, falls back to Earth controlled by a guidance system, thrusters, and a parachute. SpaceX then attempts to catch these fairing halves using boats with large nets, or it retrieves them from the water, aiming for reusability to reduce launch costs. This works for SpaceX, but the Neutron fairing design is more elegant, and in a word, more futuristic. That said, only time will tell if Rocket Lab's system will work as intended.
The company has also made adjustments to the forward strakes, or fins, that will assist the rocket during controlled vertical landings. "Unlike SpaceX, which uses grid fins, the Neutron rocket will use fins that provide more lift and can return to the launch site from further downrange," Teslarati explained, adding that the forward fins seem to have been repositioned higher on the rocket, and the size of the fairing halves appears to have been slightly reduced. Lastly, Neutron's landing legs are now tucked into the rocket, bearing a striking resemblance to Falcon 9's landing legs, both in form and function.
Aside from these changes, it would appear that Neutron's other specs have remained the same. The rocket will feature a lightweight, specially formulated carbon composite structure, be powered by nine Archimedes engines, and run on an oxygen-methane mix for fuel. Ideally, each booster will be flown between 10 and 20 times prior to retirement.
Rocket Lab is hoping to send Neutron on its inaugural flight at some point next year, but as is standard in the spaceflight industry, timelines are meant to be broken. Especially when engineers keep tinkering with the blueprints.
For more spaceflight in your life, follow us on Twitter and bookmark Gizmodo's dedicated Spaceflight page.