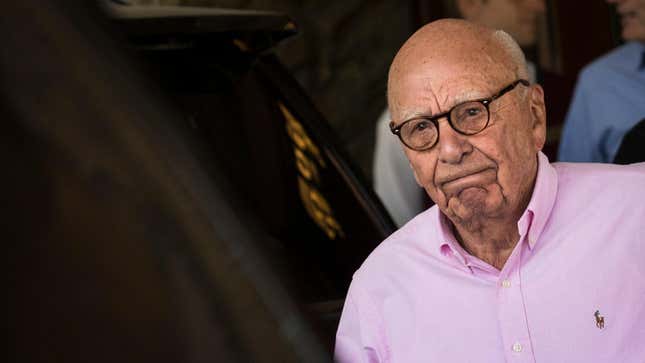 Billionaire Fox Corporation Chair Rupert Murdoch thought all the noise spewed by former President Donald Trump during his "stop the steal" hoax was "bullshit and damaging." However, the thought of curbing the spread of an incredibly dangerous conspiracy wasn't at the top of his mind back then. He said the company apparatus was focused on keeping the Fox News money machine rolling.
According to redacted filings by Dominion Voting Systems on Monday, Murdoch said that he regretted "not being stronger in denouncing" the claims of election fraud. But at the time, he was still pushing for Republican candidates to gain victory, even going so far as to hand Trump's son-in-law Jared Kushner "confidential information" about now-President Joe Biden's advertising plans and debate strategy, according to Dominion's filings.
Dominion is currently in an ongoing $1.6 billion defamation lawsuit against Fox News over allegations the network promoted the bogus "stop the steal" campaign.
These new documents from Dominion's summary judgment motion come little more than a week after Dominion revealed emails and texts between leading Fox News execs and hosts like Tucker Carlson, Sean Hannity, and Laura Ingraham. Those messages showed leading voices at Fox were very skeptical of those who spread Trump's election lies, but kept hosting them anyway out of concern for their audience's reaction and the company's bottom line.
Murdoch is known for sticking real close to folks on the political right. He could be considered the granddaddy for the vast majority of the conservative media apparatus. News Corp, which was founded by the 91-year-old, is owned by the Murdoch family. The company owns tabloids like The Sun and The Times as well as major outlets like Dow Jones & Company, which owns The Wall Street Journal among others. And of course, Murdoch owns Fox Corporation. He seems to pay particular attention to Fox News above most of his other brands.
In a statement, Fox News told news outlets like CNN that the ongoing lawsuit "has always been more about what will generate headlines than what can withstand legal and factual scrutiny as illustrated by them now being forced to slash their fanciful damages demand by more than half a billion dollars after their own expert debunked its implausible claims." The network further said Dominion's summary judgment motion was "unsupported" by defamation law that would prevent journalists from covering political allegations such as Trump's claims.
Dominion has sued other entities for defamation for allegedly pushing election denier claims, but none of those have captured the public's attention like the ongoing suit against Fox. The outlet still remains the U.S.' most-watched cable news channel. Shows like Tucker Carlson Tonight and Hannity receive 3.38 million and 2.57 million average viewers each night, respectively.
Following are some of the most wild allegations about Murdoch and other Fox execs in the weeks following the 2020 election.
Update 3/6/2023 at 12:45 p.m. ET: This article was amended to correct the quote attributed to Rupert Murdoch: "It is not red or blue. It's green." The quote was said by Dominion lawyers, though Murdoch then "agreed" with the assertion, according to Dominion filings.