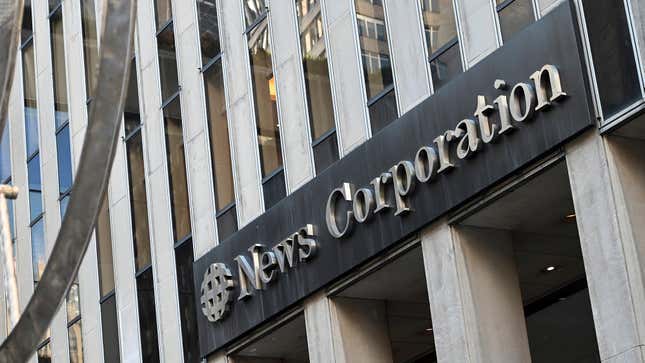 Have you ever dreamed about furthering environmental goals in the corporate space—or, more specifically, working for one of the world's most prolific climate deniers, at a company helping churn a crusade against the very existence of a job like yours? Great news: Rupert Murdoch's News Corporation, aka News Corp, is hiring a director of sustainability!

A Transformer Is Headed to the Moon
The job description, posted on the News Corp site this week, calls for someone to supervise "News Corp's approach to environmental responsibility with the goals of minimizing the company's environmental impact, growing our businesses sustainability and inspiring others to take action." Duties include managing carbon footprint data gathering, identifying new ways to cut emissions to meet corporate goals, and preparing reports to outside organizations and stakeholders; the salary range is listed as between $150,000 and $350,000. Nice work, if you can get it—although, given News Corp is valued at $9.24 billion and Murdoch's personal worth was estimated at more than $17 billion last year, it's chump change compared with the Succession levels of cash at play here.
Murdoch, through his various media properties in the U.S., the UK, and Australia—including Fox News, the Wall Street Journal, the New York Post, and Australia's Sky News—has been one of the most prolific spreaders of climate denial in recent decades. Reports suggest Murdoch himself privately believes climate science, but there's no doubt that his properties still make bank off of spreading denial and questioning climate action. (Just last month, Tucker Carlson went on a rampage about how climate change is now a "state religion.") So much for "inspiring others to take action!"
This isn't the first time that Murdoch's companies have gone counter to the political claims they make in their papers and on their TV networks: almost all of Fox News's staffers got vaccinated against covid-19, for instance, while the network was pushing vaccine denial, according to a 2021 analysis from the Guardian. And the listing for this particular job isn't that surprising, if you've been keeping up with how News Corp has been trying to reform itself on climate. In 2021, News Corp appeared to pivot on climate change, earning widespread news coverage for an editorial campaign urging the world to get to net-zero emissions by 2050. (A Vice investigation found that the company had been quietly tracking its own internal carbon footprint since 2006.)
The new position is an especially funny job posting to put up now, given the fever pitch that the right wing has reached with its battle against ESG, or environmental, social, and governance. Murdoch entities like Fox News (which is not owned by News Corp but is part of a sister company), the Wall Street Journal, and the New York Post (both of which are owned by News Corp) have in recent months helped spread GOP talking points about the evils of environmentally conscious investments and "woke" capitalism. (This position reports to the company's Global Director of ESG Initiatives, per the job description—wonder how that gig is working out for them.)

I reached out to News Corp with questions about how the job is going to function, given the hostility toward ESG displayed by News Corps's own properties. Chief Communications Officer James Kennedy responded simply with a link to this webpage, which touts the company's sustainability initiatives.
While I was writing this article, I took a quick look at the WSJ's editorial pages, which have historically been linked with Murdoch's personal views. In the month of March alone, the editorial board has already written a defense of coal-fired power; a screed about Biden's ESG veto; a criticism of energy efficiency tax credits in Italy; and a piece urging Biden to approve the controversial Willow oil project in Alaska. (And that's just the editorial side: one of the op-eds the WSJ published in the past few weeks was anti-ESG warrior Vivek Ramaswamy's announcement of his bid for the presidency.) The New York Post has also kept itself busy running editorials, op-eds, and columns on the evils of ESG.
We're all for editorial independence here at Gizmodo, but you've got to wonder just how awkward that company holiday party is going to be.