The Pentagon's new Avatar project, unveiled by Danger Room a few weeks back, sounds freaky enough: Soldiers practically inhabiting the bodies of robots, who'd act as "surrogates" for their human overlords in battle.
But according to Dmitry Itskov, a 31-year-old Russian media mogul, the U.S. military's Avatar initiative doesn't go nearly far enough. He's got a massive, sci-fi-esque venture of his own that he hopes will put the Pentagon's project to shame. Itskov's plan: Construct robots that'll (within 10 years, he hopes) actually store a human's mind and keep that consciousness working. Forever.
"This project is leading down the road to immortality," Itskov, who founded New Media Stars, a Russian company that runs several online news outlets, tells Danger Room. "A person with a perfect Avatar will be able to remain part of society. People don't want to die."
Itskov's project, also called "Avatar," actually precedes the Pentagon's. He launched the initiative a year ago, but recently divulged more details to a group of futurists - including Ray Kurzweil - at a three-day conference, called Global Future 2045, held in Moscow.
Until now, most of the work on Itskov's Avatar has taken place in Russia, where he claims to have hired 30 researchers - all of them paid out of his own deep pockets. Now, Itskov plans to take the mission global. "I want to collaborate with scientists from around the world," he says. "This is a new strategy for the future; for humanity."
G/O Media may get a commission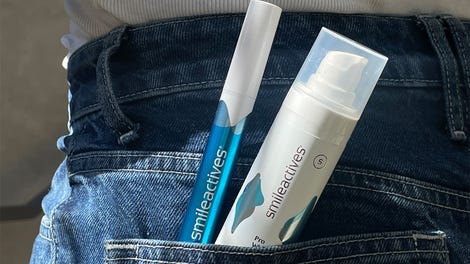 58% off
Whitening Powerhouse Pen & Gel Duo
So how would Itskov's "Avatar" work? Well, he anticipates developing the program in stages. Within the next few years, Itskov plans to deploy robots that can be operated by the human mind. That's actually not too wild a proposition: Pentagon-backed research has already demonstrated a monkey controlling a robotic arm using some nifty mind-meld tech, for example. And one study on human patients, out of Johns Hopkins, is using brain implants to control artificial limbs.
After phase one of "Avatar," however, Itskov's ambitions arguably eclipse even those of the Pentagon's maddest mad scientists. In 10 years, he anticipates "transplanting" a human mind into a robotic one. After that, Itskov wants to do away with surgical procedures and instead upload the contents of the mind into its brand new, artificial robo-body. And, last but not least, within 30 years Itskov anticipates developing hologram-type bodies - instead of tangible robotic ones - that can "host" human consciousness.
"Holograms give plenty of advantages. You can walk through walls, move at the speed of light," he says. "Remember in Star Wars, Obi-Wan's hologram? That was pretty amazing."
Amazing, yes. Scientifically feasible? Certainly not right now, and maybe not ever. "I understand these are some very big challenges for scientists," Itskov acknowledges. "But I believe in something you call 'The American Dream.' If you put all your energy and time into something, you can make it a reality."
Itskov, who plans to open two American offices this year, even hopes to collaborate with Darpa on the agency's 'Avatar' program. And he's keen to talk to agency scientists about the next, more far-out stages of brain-machine interfaces that he plans to develop. "I'm sure someone at Darpa is interested in taking this further," he says.
So far, at least, Danger Room hasn't come across any Darpa-funded ventures to develop immortal hologram-brain interfaces. But the agency just might find a little extra blue-sky inspiration in Itskov, who likens Avatar to Darpa's best-known innovation: The internet.
"Years ago, people didn't believe the internet could work," he says. "I think of Avatar in the same light. Right now, the idea is new and radical. It won't always be that way."
Image: NASA

---
Wired.com has been expanding the hive mind with technology, science and geek culture news since 1995.