The new Samsung Galaxy S5 may not seem like a huge leap forward on paper. But between the zippy camera, the fingerprint sensor, the heart rate monitor, and a new dimpled body that almost feels like a throwback, it's worth a closer look. We got one. Here are our first impressions.
Hardware
The first thing you'll notice, quite literally, is that the S5 design is quite a departure from last year's S5. While Samsung calls its shiny, perforated back that looks like leather but is actually polycarbonate a"modern glam look," it actually borders on tacky. It's not so much modern as someone's late-90s idea of what modern might be. It's sort of okay in the dark grey version, or at least less noticeable, but in the iridescent electric blue it is offensive.
G/O Media may get a commission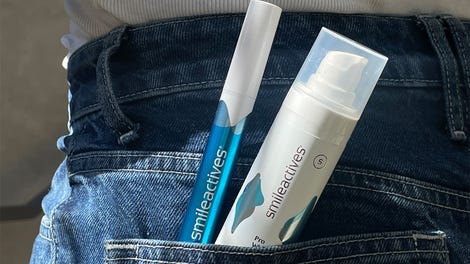 58% off
Whitening Powerhouse Pen & Gel Duo
But the S5 does feel more rugged, like it can stand to take a little more of a beating than previous Galaxy phones. It's also dust and water-resistant, which we sadly couldn't test under the eagle-eyed supervision of Samsung handlers. It's also light, but not in a way that you'd forget about it in your pocket. That's sometimes even better; heft helps reinforce the sense that this phone can withstand a drop or two.
Another selling point is the heart rate monitor, which is on the back of the phone just below the LED flash. To count your beats per minute, open the S Health app and stick your finger on the module on the back of the phone. Theoretically it should only take a couple of seconds to give you a reading, but it took exactly three tries before it actually worked. It's possible that that is a side effect of the fact that the S5 we messed around with was locked down on a short cord attached to a table, making it a little it awkward to move it around freely.
It's worth pointing out that the S5 has kept the same 1920 x 1080 Super AMOLED screen as the S4, which is slightly disappointing, although it's still a sharp and crisp and quality display.
One didn't get to test? The fingerprint sensor, a big selling point here, seamlessly integrated into the S5's home button. I would be curious to know how it well actually works, especially when stacked up to Apple's fingerprint scanner on the iPhone 5S. But we'll have to wait until we review the S5 to see that in action.
Software
While it's true that Samsung has cleaned up the TouchWiz UI, but it's basically like turning down the temperature in hell a few degrees. It's definitely cleaner, more straightforward, and more in line with pure Google, but it's still bogged down with all the Samsung-branded S apps that don't serve a ton of purpose. They're all here; S Voice, S Pen, and so on. My Magazine—Samsung's very own Flipboard-like app—is also front and center, if you care to use it in the first place.
The camera software is one of the areas where the S5 got some love. From the little we were actually able to photograph, the 16MP shooter actually takes some nice crisp photos. Autofocus speed seemed fast, as promised. However, our resident camera expert, Michael Hession, said he didn't seem to see much of a difference in AF between the S5 and other top smartphones cameras.
There are some handy software bonuses here, though. Selective Refocus that lets you re-focus on something on the foreground or the background after you've taken a shot, to get that depth of field effect without having to work too hard for it. This worked pretty well, and is going to be really nice for people with shaky hands and drunks. It also has Shot & More, which will quickly take several pics and cobble together one perfect shot from all of them. This has existed in old Samsung phones but now it's just more automatic. It worked like a charm.
The S5 has HDR video, which Samsung says this is the first for any smartphone. When you press the HDR button the scene immediately becomes clearer and the dark areas become more visible. It works well when you're watching through the phone's display, but we haven't seen any files to see actual results.
I do have a little bit of beef with the camera interface itself. It's not super intuitive, and while these new features are nice, you have to go looking for them. You'll get used to them eventually, but they're awkward getting used to.
Overall, the experience of using the S5 is not that much different from any old Android, an incremental update that's neither bad nor amazing. Except for the dimples. Those are bad.