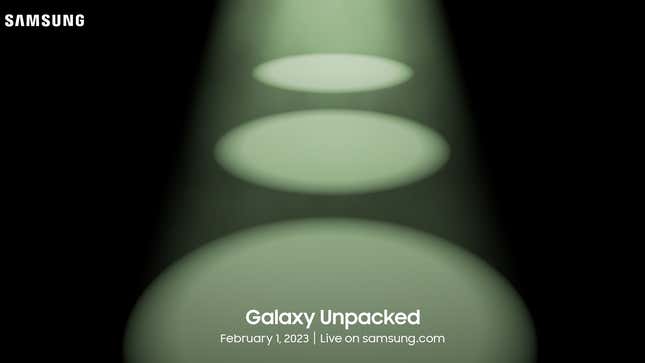 Samsung has announced the details of its next Galaxy Unpacked event. The launch event will happen in person on Wednesday, Feb. 1, at 10 AM PT/1 PM ET in downtown San Francisco. It will be live-streamed on YouTube and Samsung's website.

Teenage Cybercrime Gang LAPSUS$ Strikes Again
We're expecting that what will be unpacked is Samsung's next flagship, the Galaxy S23. If it's anything like last year, three models will be offered, including a standard-sized Galaxy S23, a larger Galaxy S23+, and an "ultimate package" with a stylus and extra camera sensor called the Galaxy S23 Ultra.
How to watch Samsung Unpacked
Samsung's 2023 unpacked event will start at 10 AM PT/1 PM ET on Feb. 1 and will air on both YouTube and Samsung's website. For your convenience, we've embedded the YouTube stream below.

What will Samsung unpack?
Samsung hasn't confirmed that it's phones that are debuting, but given that the event site is already letting visitors pre-order an unnamed Galaxy smartphone, we'd be surprised to see the event pass by without a new one. There's also already been a slew of rumors circulating about what's to come.
First, the promotional materials for the Galaxy Unpacked event show three camera lenses—just like the Galaxy S22's. So-called "dummy units" have been floating around with similar rear-facing camera cutouts as their predecessors. The Galaxy S23 Ultra, in particular, is rumored to have a similar feature-packed camera system, including a 200-MP primary camera and dual telephoto lenses.
A leak of alleged marketing materials for the Unpacked event was also already floating around last month before the official announcement from Samsung. The teaser shows an animation with the phrase "made for moonlight." Considering last year's Galaxy S23 was made to accommodate its Space Zoom capabilities, it's easy to see this being the slogan for the Galaxy S23 Ultra. The made for moonlight slide is now public on Samsung's website.
We might also learn a little about the chip that's going to power the Galaxy S23 series. It's been said that Qualcomm's Snapdragon 8 Gen 2, revealed in November, will be in these devices. They might also have vapor chamber cooling, which has moved beyond being a buzzword in today's current climate of high-powered mobile processors—rivaling flagships like the OnePlus 10T feature similar technology. It'll be interesting to see how Samsung markets it.
Think you'll upgrade to the new Galaxy?
We can't tell you if the Galaxy S23 will be worth upgrading to from whatever phone you already have in your hand until we review the hardware ourselves. But if you're familiar with Samsung's trajectory and have your heart set on what's next from Samsung anyway, you should know about the latest discount opportunities.
Samsung has already opened pre-orders for the products it will unveil. If you pre-order, you'll get a $50 credit for one device or a $100 credit for two devices. You don't have to commit, either, which will give you a chance to figure out if you want to trade in what you're already wielding.