I don't know what's going on over at Samsung, but as PMPs die, you've got to come up with some way to differentiate your product—and I guess a see-through screen is as good a way as any.
Samsung's PMPs are among the best out there—I love the P3—but their design has been only slightly quirky in the past. All the crumbly gingerbread cookie widgets in the world wouldn't compare to the utter Korean weirdness going on in the IceTouch (which recalls the SE Pureness) and the MyFit.
The IceTouch is a 16GB player with a 2-inch AMOLED touchscreen, but what a freaking weird touchscreen it is. First, it looks like it has a sliding blue sheath of some kind that covers the touchscreen. Why? Who knwos? But Samsung didn't stop there—the screen is transparent. The player itself isn't made of plastic or metal, but tempered glass, and features Samsung's usual sound enhancements and top-of-its-class video compatibility. It also has (eep) a brand of Samsung's TouchWiz UI called Sweep. You might remember TouchWiz from when it thoughtlessly murdered any hope the Omnia II had. Samsung's PMPs have mostly escaped TouchWiz's sinister, all-reaching grasp, and hopefully the IceTouch survives as well.
G/O Media may get a commission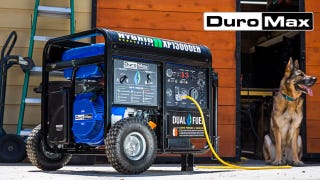 Black Friday Sale
DuroMax Generator Sale
Pricing and availability haven't been announced yet. [Samsung]
IceTouch 16GB Transparent AMOLED Touch-Screen MP3 Player
In addition to the full-color transparent AMOLED touch screen, the IceTouch features a high-performance CPU and Samsung's own "TouchWiz Sweep" interface, which is designed to provide a comfortable grip and give users new options for interacting with their player.

Audio purists will appreciate the device's new 5.1-channel sound enhancement technology and support for the MP3, WMA, OGG, FLAC, AAC, M4A, WAV and MP3HD audio codecs, and video hounds will love being able to playback MPEG4, WMV, H.264, Xvid and Divx files. The player also continually analyzes and adjusts audio levels to reflect the producer's intended sound.
The AMOLED screen casing is constructed using a dual-injection molding process and tempered glass and results in a smooth, durable and scratch-proof surface that is aesthetically pleasing and enjoyable to the touch. The IceTouch, which comes in white, can also be individually customized through separately sold color skins in pink, blue, purple and gray.