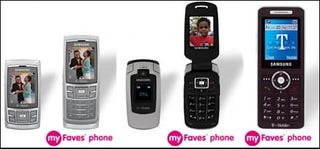 T-Mobile and Samsung have officially launches three phones that are available today. These three phones are acceptable for use with T-Mobile myFaves. Jump to get the low-down on each handset.
The T629 is a slim, slider phone. It has a 1.3 megapixel camera, MP3 player, Bluetooth, etc. The T619 is essentially the same phone as the T629, but it is a traditional clamshell form factor. The T629 is available for $150 with a contract and the T619 is available for $50 with a contract.
The T509s is an upgrade to T-Mobile's existing T509. This phone is now available in the color "deep plum" and includes a VGA camera, Bluetooth and all of the other usual features. The T509s is available for $50 with a service plan.
They are all pretty average Samsung phones. The prices are definitely appealing, especially the T619 and T509s—although plum makes me look fat.