Samsung sells a crapload of cameras all around the world. But not for pros. At $1500, the new NX1 is the first Samsung cam packing enough power to be taken seriously by photography enthusiasts. It shoots 4K video and fires off super fast 15 frame-per-second bursts. It's a good camera... but maybe not good enough.
The NX1 looks like a DSLR in size and shape. But it's actually a mirrorless cam sporting a 2.36-million-dot OLED viewfinder. It's got an 28 megapixel APS-C size sensor which gives you higher resolution photos than any Canon or Nikon midrange DSLR. It also just so happens to be the largest backside illuminated sensor (BSI) to date, which means it places the light-gathering photodiodes closer to the surface of the sensor to gather light more efficiently and keep noise levels low despite the bump in resolution.
It's also lighter than a comparable DSLR—at least by itself. When paired with Samsung's new and extremely hefty 16-50mm f/2-2.8 lens, the NX1 turns into a certified heavyweight in the mirrorless world. I favor light loads, and I wouldn't want to carry this one around all day.
I have to commend Samsung for the NX1's style. They managed to make the classic DSLR form-factor look modern without going dopey (see Sony a99). The camera's curves are balanced and smooth, with a shapely grip and nice rubberized texture around front. It's weather-sealed too, so go frolick in the rain all you like. The controls are placed intuitively; I always love picking up a new camera and knowing immediately how to control it based on where my fingers naturally fall. There are dials for aperture and shutter speed directly under thumb and forefinger, with a lockable mode dial on top and a clickable control wheel on the rear.
G/O Media may get a commission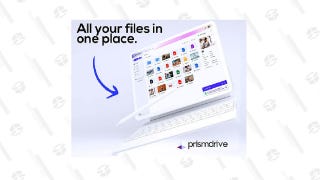 Save 97%
Prism Drive Secure Cloud Storage: Lifetime Subscription
You can customize each of the four buttons on the rear wheel, as well as many of the buttons peppering the body. But for most, you can only choose from a limited set of functions. I would have loved a broader array of choices for putting features at your fingertips. Luckily, there's another option for accessing settings, and that's through the tilting AMOLED touchscreen.
I really like how Samsung's touch interface works. Just like the physical controls, it's easy to figure it out with just a look. You can access all the menus and settings via touch, as well as tap to focus on something you see, or fire the shutter. Of course, you can choose to hide the additional touch buttons, or turn off the touchscreen all together. The important thing is that it just works. I'm a stickler about touch-screens working seamlessly, and this one simply does. But keep in mind if you're working with a heavy lens, the weight of your camera can make it hard to spare a hand to touch the display. It's definitely way easier to operate touchscreens on smaller, lighter cameras.
Interface design is one thing Samsung does very well across the board with the NX1. I've talked about the physical and touch controls, which are great, but the software is also surprisingly straightforward. While big camera makers seem satisfied reusing their decade-old UI design again and again, Samsung's expertise with modern electronics and modern interfaces really shows in the NX1.
Here are a couple examples of the clean menu layouts you'll see:
I love this screen that's a tap away:
Nowadays, one of the true tests of how capable a mirrorless camera is for advanced shooters is in autofocus abilities. This is where DSLRs typically pull far ahead. Samsung has really hyped AF as one of the standout features of the NX1, with 205 phase-detection points and sophisticated subject tracking. In practice, I saw mixed results. In comparison to other mirrorless cameras I've used, it surely was among the best along with the Sony a6000. But with moving subjects, I saw the camera get confused and blur frames too often. The NX1 can't compete with advanced DSLRs when it comes to rapid focus adjustments.
Having said that, most users probably won't notice. I never had trouble focusing in everyday scenarios where I took single shots of scenery or people. The NX1's face-recognition even honed in well on my 6-month old's smiles. I'd rate it one of the best mirrorless cameras at focusing. It just won't end up the hands of pros on the Super Bowl sidelines.
Here are some examples of the sometimes good/sometimes bad focusing:
Single point touch focus was really snappy.
Tracking focus sometimes worked and sometimes didn't. The first GIF shows it completely losing focus despite the tracking point remaining steady:
Then I repeated the action and it did just fine:
If you are shooting sports, the NX1 has an insane burst mode for you. You can shoot 15 frames per second in RAW with continuous autofocus. That's impressive. To compare, the Canon 7D Mark II does 10 fps, which is around where most mirrorless cameras top out as well. Is 15 fps overkill? Possibly. But if you have the power, why not use it?
You'll also find some gimmicky focus modes that are nifty but not super practical. The coolest one could have been the Trap Shot feature, where you can select a vertical axis where the camera will automatically fire off a shot when your subject crosses the line. It didn't work very well for me, and it's clunky to execute.
And so we come to image quality. It's good, but not amazing! In well-lit conditions the NX1 produces images on par with most of the popular APS-C sensor cameras out there, in terms of color and dynamic range. But when I pushed it up to ISO 400, I was surprised by how much noise I saw. It'll be more or less noticeable depending on how your scene is lit, but it's pretty nasty in underexposed parts of the scene. And in low light, the NX1 is also slightly underwhelming. I pit the NX1 against the Canon 70D at high ISOs, and found a similar amount of noise, but the NX1's grain was muddier and less organic-looking than the Canon.
But the bigger problem is glass. I was lucky enough to be outfitted with Samsung's top of the line zoom lens, the 16-50mm f/2-2.8. Besides being really big, this lens is very sharp, bright, and has optical stabilization. But not everyone is going to spring for this $1300 beast. And the rest of Samsung's lineup is pretty sparse, with only 13 lenses in all. 6 are zooms with variable apertures no larger than f/3.5, which limit you creatively, while the selection of primes is just kind of odd, with slightly irregular focal lengths and form-factors.
Sony's E-mount system has been criticized for being shy on lenses, too, but Sony at least has a set of third-party adapters that let you use almost any other type of lens on the cameras. Samsung's lens system is growing, but I don't know if I would jump to a new and largely unproven brand.
All of our images were shot in RAW, and are available to download in full resolution on our Flickr page.
Here's how the NX1 handles low light. The following shot was at ISO 6400, with 100% crops of other ISOs below it:
Video
Part of what makes the NX1 so interesting is the ability to shoot 4K ultra-high-def video. The quality is terrifically detailed and rich, and the file sizes are small and totally manageable. There's one big caveat, though. The NX1 encodes video using the relatively new H.265 codec in order to keep those files small. The drawback is that you can't edit the footage in most popular video apps like Final Cut X or Adobe Premiere Pro unless you first convert it to another format.
That's not only time consuming, but depending on what format you convert to, it usually leaves you with much larger files requiring a whole lot of hard drive space. I used an app called iFFmpeg (hat tip EOSHD) to convert the NX1's files to ProRes so I could edit them easily in Premiere Pro. That turned a roughly 30 second clip that was originally about 350 MB into a file almost 3 GB in size!
The good news is that H.265 codec is only going to gain in popularity, and it won't be long before it is supported by all the editing apps you know and love. It wasn't too long ago that people using DSLR for video had to convert all their H.264 footage before editing, and look at them now! Still, if you invest in the NX1 for video, be prepared for the extra steps involved.
Aside from the codec issue, the NX1 is a lot of fun to shoot video with. Autofocus is workable but unpredictable—not as good as the great Canon Dual Pixel system, but still in line with most video-shooting still cameras. Low light quality isn't great: you'll still see much better results with either full-frame Canon DSLR or the Sony A7s shooting 1080p. Also worth noting that you get 120fps slow-mo at 1080p, but not in the 4K mode.
The NX1 lacks a dedicated video mode, unlike most cameras these days. Instead you press one of the rear buttons and it sends you into a video-standby mode, which resizes the frame to the proper aspect ratio and shows you a different touch interface with buttons for controlling audio levels and the focus mode. It's pretty great. With other cameras, it's tough to quickly switch between photo and video modes because finding the right setting on a dial is so slow. The camera has both headphone and microphone jacks, and will output an uncompressed 4K signal through HDMI, all essential features for serious video pros.
When all is said and done, the NX1 is great at video even if it's not an all-out dream camera. But the Panasonic GH4 also shoots 4K in a smaller and lighter package, with access to more lenses. It's probably the more practical choice.
Like
Really easy to use thanks to a modern interface, well-placed controls, and a reliable touch-screen.
Shoots terrific 4K video.
Burst mode is unrivaled at 15 fps in RAW mode with continuous autofocus.
Has one of the best autofocus tracking systems of any mirrorless camera, even if it can't stand up to a DSLR.
The body is weather-sealed.
No Like
Image quality no better than any current camera on the market, and in some cases (like low light shooting) it's worse.
There are a bunch of gimmicky features that aren't useful for enthusiasts and pros that the camera should be targetting.
Lack of lenses makes the NX system a very tough sell for photographers.
Should You Buy It?
If you're a first time DSLR or mirrorless buyer who wants a solid, powerful tool that's easy to figure out, I think the NX1 is a great pick. However, if you're already invested in a camera and lenses, it's hard to identify a good reason to switch to Samsung's immature ecosystem. The only feature that could get people drunk enough to switch is the promise of good 4K video. But even then, I think the $1700 Panasonic GH4 (body only) is a slightly better investment due to a wide range of lenses and accessories.
Samsung definitely shot for the moon with the NX1, and scored a lot of innovation points. But they can't ignore the other side of the equation—lenses. Until a wide variety of pro-oriented glass is developed, the NX series is a wandering soul in the thick fog of cameras.