Sony cameras have come a long way over the last few years—to the point that they're competitive with the twin monoliths of Canon and Nikon. The company has accomplished this feat by making gear that's different from other stuff out there. Until now, that success has been limited to point-and-shoots like the RX100 and the fabulous NEX cameras. Here's a big, pricey professional flagship to match Sony's successes at lower price points.
What Is It?
A $2800 DSLR body with a 24.3-megapixel full-frame sensor and a smaller body than most cameras in its class.
Who's it For?
Professional photographers who are looking for something a little different.
Design
G/O Media may get a commission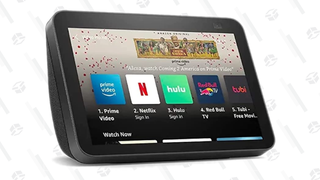 The A99 has a more evolved body than its competitors. It's compact for a full-frame sensor camera and at 28 ounces its magnesium alloy body is lighter than top DSLRs like the 33-ounce Canon 5D Mark III. The differences don't stop at size: it has a comfy molded grip, a flip-out LCD screen that bends every which way. Even the buttons are curved and crafted for much better feel than anything you can get from the competition.
Using It
The A99 feels different as soon as you pick it up. Its molded grip is leagues more comfortable than what everyone else has to offer. The compact body makes a big difference when you carry the camera around for long periods of time.
As for shooting performance, the A99's autofocus modes work a little differently than what I'm used to from other cameras, but once I figured them out I didn't have any problems. The electronic viewfinder could have been a major drawback compared to the optical viewfinders on other cameras, but I didn't mind at all. It represents the scene around you with more color situation than reality, but it's sharp enough and easy enough to focus with that it's not a big issue.
The camera's image quality—and it's high-ISO performance in particular—were impressive. This shot at ISO 6400 is relatively noise-free. Remember this is a crop at 100-percent magnification. Zoom out to usable size and you won't see the noise at all. (Check out the full ISO test here.)
The camera's HD video quality is quite good as well. Sony still lags behind Canon on video quality, though.
The Best Part
Beautiful full-frame DSLR photography in a smaller body.
Tragic Flaw
While unique and better than its legacy competitors, it might not be different enough to entice you to be different—especially since the competitors have much more robust lens offerings.
This Is Weird...
Even if the OLED EVF is more than suitable for taking photos, it still makes the camera feel like less than a flagship full-frame.
Test Notes
I carried this thing around all of CES, and I gotta say, when you're pounding a trade show floor with a camera on your shoulder all day, a half-pound lighter really makes a big difference.
Should You Buy It?
The Sony A99 is a very nice camera, just not nice enough. It doesn't exude excellence in enough areas the way you'd want a $2,800 body-only camera to. If you really care about having a lighter full-frame camera, go with the excellent and much cheaper Nikon D600 for photos or Canon 6D for video.
• Price: $2800 body only
• Sensor: 24.3 megapixel, full-frame (35.8 x 23.9mm)
• Max ISO: 25,600
• Image: Up to 6000 x 3376 pixels
• Video: 1920 x 1080 60/24
• Screen: 1,228,800 dot, 3-inch TFT LCD
• Weight: 28.7 ounces w/battery