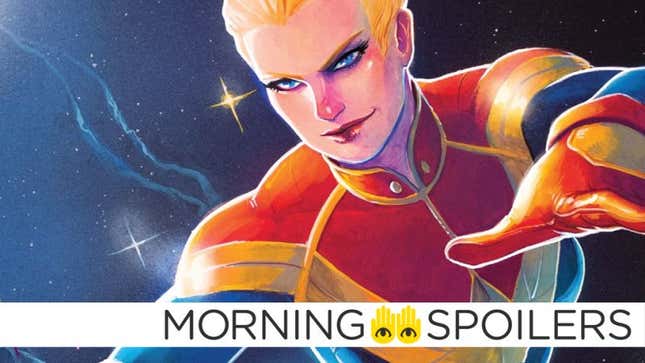 The next season of The Walking Dead is going in a new, less zombie-laden direction. There's drama behind the scenes of the Snowpiercer TV series. The Unbreakable sequel Glass has a poster so cool it's worth mentioning here in the intro. Plus: Quentin Tarantino's Star Trek movie, the Watchmen tv series, and so much more. Morning Spoilers, ho!
The Boogeyman's Sophie Thatcher Reveals What Draws Her to Dark Characters | io9 Interview



---
Ant-Man & The Wasp
In a recent interview with Seth Myers, Paul Rudd stated Ant-Man & The Wasp transpires "concurrently" with Infinity War — but you'll have to stay for the "mind-blowing" post-credits scene to see how.
People have asked me about [Ant-Man and The Wasp] and this, I don't know if I'm supposed to say it but I'll say it, it happens kind of concurrently. It's very important because it doesn't exist in a vacuum. You have to stay through the end because when you see this thing, through those post-credit scenes, there's mind-blowing stuff that ties into Infinity War.
Meanwhile, Wasp takes on the Ghost in a brand new clip.
---
Avengers 4
Speaking with Entertainment Tonight, Evangeline Lilly hints the Wasp develops a working relationship with Captain Marvel over the course of Avengers 4.
You know what I was working, when I was working on Avengers I got to know Brie Larson pretty well, or as much as you can on a film, and her and I talked about it. And of course she's going to be the next titled female superhero, she's going to be Captain Marvel, and I'm sure this will be the beginning of many, many more titled Marvel films. Black Widow. Scarlet Witch. I mean I don't know who's next or who's going to get a film, but it's not, it's just the beginning.
Meanwhile, actor Sean Gunn (brother of Guardians of the Galaxy director James) would neither confirm-nor-deny if the Ravager Kraglin survived Thanos' "The Snappening" in a recent interview with Good Day Sacramento.
I can neither confirm nor deny whether I'll be in the next Avengers movie. I did work on it as Rocket, but as for my other character, I think we'll just have to keep watching. I don't think we've seen the last of him but there's more coming somewhere.
---
Captain Marvel
Relatedly, Samuel L. Jackson appears to have revealed Captain Marvel's faux-hawk and helmet on an officially licensed t-shirt from the movie's visual effects team.
---
Jumanji 3

Speaking with Collider, Jake Kasdan discussed plans to begin filming the next Jumanji in early 2019.
The idea is to make the movie in the beginning of the year if we can get it all worked out. Part of the challenge of figuring out how [the emotional center of the film] continues is to keep that alive in ways that feel earned...like a true kind of continuation in this story.
---
Glass
Coming Soon has the first poster for the Unbreakable/Split crossover movie, Glass. It's nice!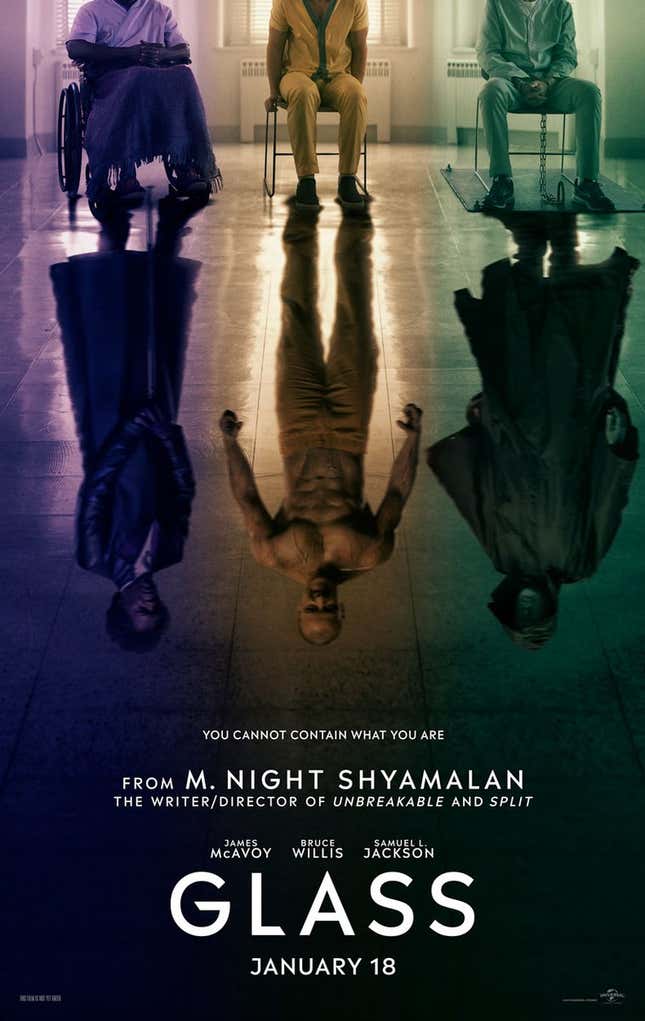 ---
Bloodshot
Johannes Haukur Johannesson (the minor character Lem from Game of Thrones) has joined the cast in a currently undisclosed, but reportedly villainous role in the Valiant comics adaptation.
[The Wrap]
---
Quentin Tarantino's Star Trek
On a recent episode of MTV's Happy Sad Confused podcast, Zachary Quinto stated he believes Quentin Tarantino's rumored Star Trek movie would be set in the Kelvin timeline of the J.J. Abrams reboot.
My assumption is that it is with us. That is how it has been presented. You know, until deals are done and contracts are signed and schedules are cleared, nothing is set in stone, so anything can happen. My understanding is Quentin had this idea and they were shaping it and forming it and he is off to do his Manson movie. And it would be after that, that we would go maybe do one with him. Which is pretty exciting, pretty cool.
---
Charlie's Angels
That Hashtag Show reports Naomi Scott (Power Rangers) will join Kristen Stewart and Lupita Nyong'o for Elizabeth Banks' reboot of Charlie's Angels.
---
Men in Black
THR reports both The Big Show actor Rafe Spall and the the street-dancing duo known as Les Twins have joined the cast in undisclosed roles.
---
Lady and the Tramp
That Hashtag Show reports Disney is looking to cast "people of color" for the titular lead roles of the live-action Lady and the Tramp remake.
---
Animosity
Legendary has acquired the film rights to Animosity, Marguerite Bennett and Rafael de Latorre's comic book series from Aftershock about the entire animal kingdom suddenly developing sapiency.
The Meg
Li Bingbing gets chomped on the latest poster for The Meg, courtesy of Bloody-Disgusting.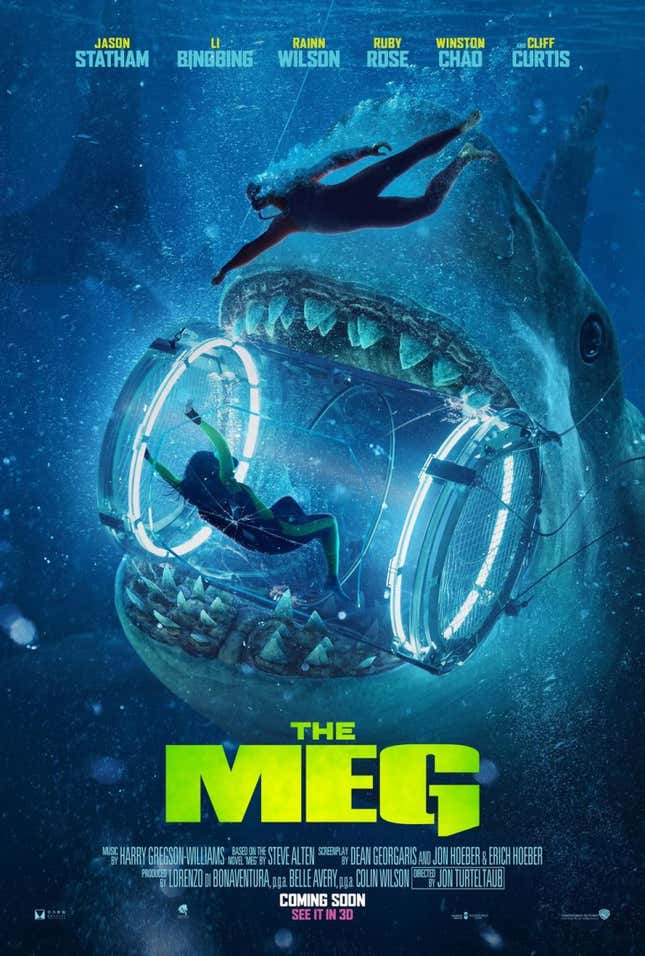 ---
Summer of '84
A serial killer targets a group of adorable, Amblin-inspired '80s kids in the first trailer for Summer of '84.
---
Watchmen
Variety reports Yahya Abdul-Mateen II and Sara Vickers have joined the cast in undisclosed roles.
---
Star Trek: Discovery
Deadline reports Major Crimes creator James Duff has joined the series as an executive producer, alongside Rachel Getting Married writer Jenny Lumet and director Olatunde Osusanmi.
---
The Walking Dead
An "insider" at Skybound reports season nine will be more about rebuilding society than the zombies who collapsed it.
While some of the communities will experience more growth, each one still has a lot of work to do... Those civilization blocks [Georgie] gave to Maggie will definitely play into the rebuilding of the Hilltop and beyond... We will see a lot more rebuilding than the typical altercations between communities. Our heroes will also be on the road a lot more than recent seasons.
---
Snowpiercer
Doctor Strange director Scott Derrickson refuses to return for reshoots on the pilot episode of TNT's Snowpiercer TV series, following incoming showrunner Graeme Manson's "radically different vision."
---
Preacher
Finally, Jesse shares an awkward breakfast with the family in a clip from next week's episode, "Gonna Hurt."
---
Banner art by Jim Cooke.