The San Francisco Police Department has changed its tune. It now says officers did come to the home of Sergio Calderón, looking for a missing iPhone 5, but that only Apple employees went inside, according to The SF Weekly. Updated
After previously telling both Gizmodo and The SF Weekly that the San Francisco police had no record of being involved, SFPD spokesperson now tells The SF Weekly that "three or four" officers did in fact take part in a July search of Calderón's home. However, these plainclothes officers apparently did not enter the premises.
Calderón confirmed to The SF Weekly that only two people entered his home, who were apparently Apple employees. However he was under the impression that these too were police officers. None of the people who came to his home identified themselves as Apple employees. As the Weekly reports:
"When they came to my house, they said they were SFPD," Calderón said. "I thought they were SFPD. That's why I let them in." He said he would not have permitted the search if he had been aware the two people conducting it were not actually police officers.
G/O Media may get a commission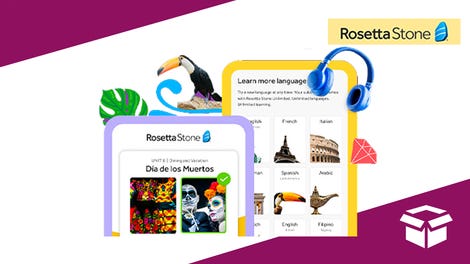 Extra 20% off
Rosetta Stone Lifetime Subscription - All Languages
So in essence, the SFPD came over, flashed badges, seemingly made threats, and then stood by while private citizens searched the Calderón home. Oh, and then they conveniently forgot about it.
Yet, it's still not clear exactly who questioned Calderón and his family's immigration status (they're legal) or why. Nor are we clear on whether or not officers were there in an official capacity. Obviously, much in this story is still developing.
Update: The SFPD has released an official statement detailing the July search of Sergio Calderón's home:
San Francisco Police Assist Apple Security with their Lost Property Investigation
11-096
Posted Date: 9/3/2011

After speaking with Apple representatives, we were given information which helped us determine what occurred. It was discovered that Apple employees called Mission Police station directly, wanting assistance in tracking down a lost item. Apple had tracked the lost item to a house located in the 500 block of Anderson Street. Because the address was in the Ingleside Police district Apple employees were referred to Officers in the Ingleside district. Four SFPD Officers accompanied Apple employees to the Anderson street home. The two Apple employees met with the resident and then went into the house to look for the lost item. The Apple employees did not find the lost item and left the house.

The Apple employees did not want to make an official report of the lost item.
Which clears up why the police showed up and why there was no report filed, but it doesn't exonerate the SFPD from allowing Apple to conduct a search under false pretenses.