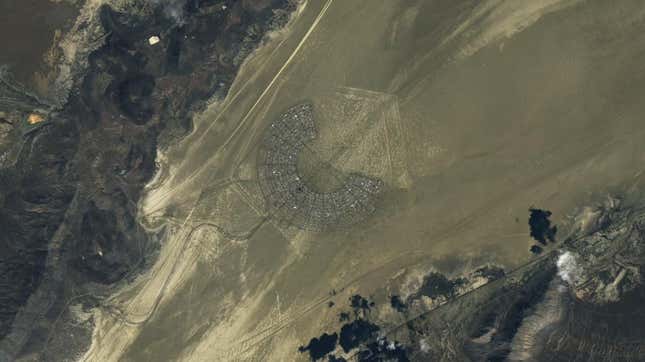 Tens of thousands of Burning Man attendees in Nevada's Black Rock Desert had to trudge through rain and mud last Friday and into last weekend after an unusual bout of rain in the region.

Winter Storms And Drought in California | Extreme Earth
The Black Rock Playa, where the festivities are held each year, is a flat expanse that hosted a prehistoric lake over 15,000 years ago. The equivalent of about three months worth of rain dropped over the desert, CBS News reported. On September 1, up to 1 inch (2.5 centimeters) of rain fell in that area. This region experiences about 6 inches (15.2 cm) of rain each year. And because it is flat, water pooled in the area, creating thick mud that was hard to move around in.
Attendees posted videos online showing what the area looked like before and after the rain. Newly released satellite images show how the water pooled in the desert, creating the difficult conditions that made headlines last weekend. Two photos from the Moderate Resolution Imaging Spectroradiometer (MODIS) on NASA's Terra satellite show the region before and after the rains came through. The first image, shown below, shows the sandy desert on August 26.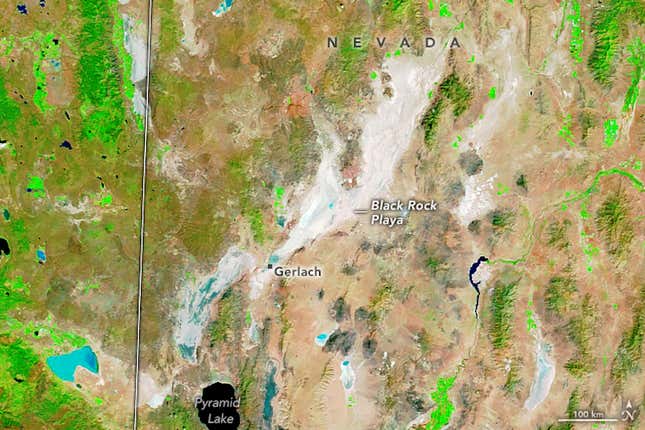 The second image shows the pooled rain water on September 4. The after photo highlights the saturated ground, rainwater, and lakes with shades of blue.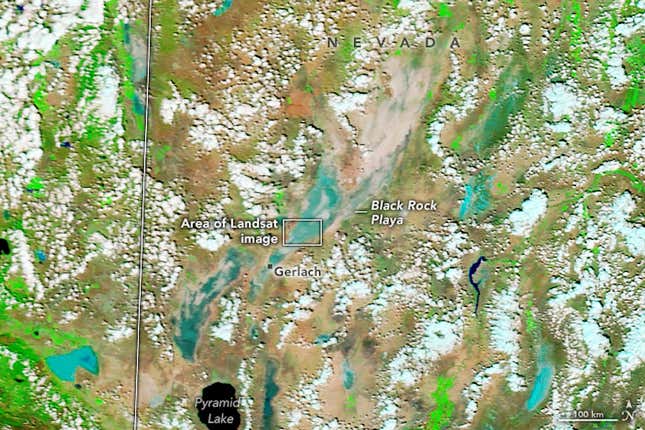 Another satellite image shows how dark the ground had become after the rainfall. "Dark areas are likely mud, or where the surface is saturated with water. The image was acquired with the Operational Land Imager-2 (OLI-2) on Landsat 9," according to NASA Earth Observatory.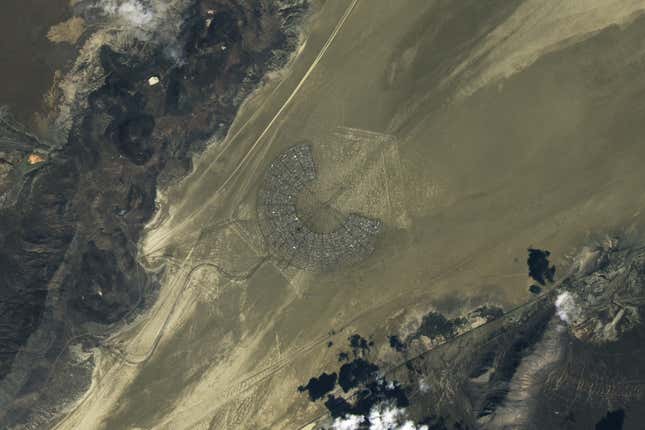 People have taken to social media to discuss potential links between climate change and the unusual rainfall in the desert during the event. Climate scientist Daniel Swain explained in a thread on X, formerly Twitter, that there is a climate angle, but that an event being washed out was high on the climate-related concerns. "Is it plausible? Yes, probably—the heaviest downpours will increase almost everywhere in a warming climate," he tweeted last weekend.

And though most of tens of thousands of attendees were alright through the unusual weather, one attendee did die during the storm last week. 32-year-old Leon Reece was found unresponsive on Friday evening when the desert was experiencing the heavy rainfall, The Daily Beast reported. Authorities hesitated to connect his death to the weather, but later said that the rain did in fact delay efforts to send for help.
Want more climate and environment stories? Check out Earther's guides to decarbonizing your home, divesting from fossil fuels, packing a disaster go bag, and overcoming climate dread. And don't miss our coverage of the latest IPCC climate report, the future of carbon dioxide removal, and the un-greenwashed facts on bioplastics and plastic recycling.