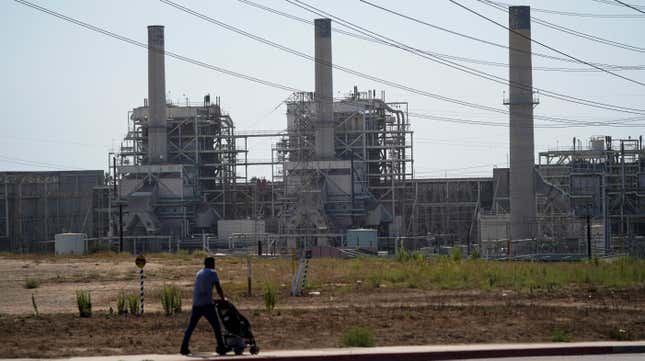 California officials passed a bill this week that will require large companies to outline their annual greenhouse gas emissions that contribute to the climate crisis. This is the first mandate of its kind in the U.S.
"SB 253 will make California a global leader in corporate carbon transparency," California Senator Scott Wiener and bill author tweeted on X earlier this week.
SB 253, also known as the Climate Corporate Data Accountability Act, requires the California Air Resources Board to create rules by the beginning of 2025 for companies that do business in the state. The bill passed through the state Assembly and Senate and now has to be signed into law by Governor Gavin Newsom before it can be enforced.
If approved, the mandate will target both public and private companies that make over $1 billion in hopes of pushing those entities to lower their overall emissions. The companies affected would have to start reporting their emissions under three different "scopes." The bill describes scope 1 as the emissions that come directly from a company and its branches. Scope 2 is described as indirect emissions that come from "consumed electricity, steam, heating, or cooling," that was purchased or acquired by the company. Scope 3 is described as indirect emissions caused by a business's supply chain, business travel, water usage, and even employee commutes. The first two scopes would be disclosed in 2026, and the last would be disclosed to the state by 2027.
The bill is one of the state's strategies for reaching its goal of being carbon neutral by 2045. If passed, it will affect more than 5,000 businesses that operate in California including oil and gas giants including Chevron and ExxonMobil, the La Times reported.
Some opposing businesses and elected officials have argued that the bill would cost the state too much money. The California Chamber of Commerce has argued that this bill could lead to higher prices for consumers. The chamber also worried that some businesses do not currently have the resources to accurately report sources of indirect pollution, The Associated Press reported.
In response to some of the concerns, Wiener amended the bill to give the companies more time to accurately report their indirect emissions, CalMatters reported. If the governor signs the bill into state law, companies would have until 2030 before they are fined for inaccurate emissions reporting.
Some major companies that are headquartered in the state have supported the bill. Last week Michael Foulkes, Apple's director for state and local government affairs, sent a letter to Wiener, outlining their support for the then-upcoming vote. "Fighting climate change remains one of Apple's most urgent priorities," the letter said. "While these emissions can be challenging to measure, they are essential to understanding the full range of a company's climate impacts."
Want more climate and environment stories? Check out Earther's guides to decarbonizing your home, divesting from fossil fuels, packing a disaster go bag, and overcoming climate dread. And don't miss our coverage of the latest IPCC climate report, the future of carbon dioxide removal, and the un-greenwashed facts on bioplastics and plastic recycling.