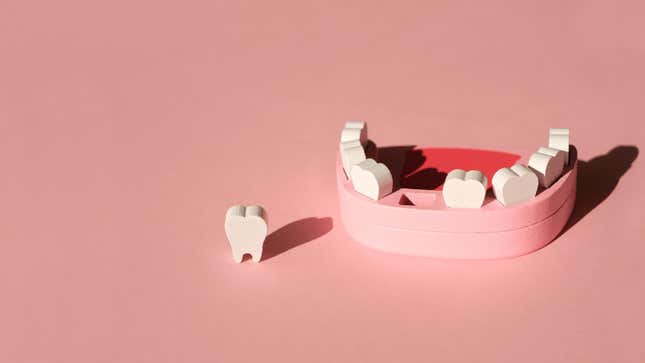 A team of scientists in Japan is hoping to make their tooth-growing drug a reality in the near future. Following recent promising research in animals, the group is planning to conduct small-scale human trials of the drug starting next year. Should everything go well, the treatment could reach the public by the end of the decade.
Vizio's Latest TVs Go All Quantum
The experimental treatment is being developed by scientists at the Medical Research Institute Kitano Hospital in Osaka and other institutions. It's a drug designed to block the action of a protein known as USAG-1. Years earlier, the team conducted research showing that mice lacking the gene needed to produce USAG-1 would go on to grow extra teeth. Their work found that USAG-1 seems to interact with other proteins to suppress tooth growth. And eventually, they appeared to find an antibody that would safely block one of these interactions while not having dangerous side effects elsewhere.
In 2021, the team published the results of their research in both mice and ferrets. Last month, the Japanese newspaper Mainichi reported that the team is now on track to start human trials in July 2024.
"The idea of growing new teeth is every dentist's dream. I've been working on this since I was a graduate student." Katsu Takahashi, the team's lead researcher, told Mainichi.
The drug will be tested in people with anodontia, a rare genetic condition that leaves them unable to grow any teeth. Should the clinical trial process pan out, Takahashi envisions that the drug could receive regulatory approval by 2030, initially as a treatment for children with anodontia between the ages of 2 to 6.
But the team believes that their treatment or future iterations of it could someday have even broader applications. They theorize that it will eventually be possible to regenerate a third set of teeth in people who have lost them to gum disease or other conditions, a much more common affliction. In the U.S. alone, as many as a quarter of people over 65 have experienced severe tooth loss, defined as having 8 or fewer teeth left, while one in six elderly people has lost all their teeth.
"In any case, we're hoping to see a time when tooth-regrowth medicine is a third choice alongside dentures and implants," Takahashi said.