What possessed four of science fiction and fantasy's superstar authors to strip down to their skivvies and gather around Hugo-award-winning writer Mary Robinette Kowal? It's not just to skewer the skin-baring cover illustration of Poul Anderson's Young Flandry (although that was certainly part of it). It's all part of Jim C. Hines' charity poses drive to support the Aicardi Syndrome Foundation.
Aicardi Syndrome is a rare genetic disorder that causes a number of complications, including brain malformation, developmental delays, and seizures. Hines has friends whose children suffer from this condition, including a friend whose daughter recently passed away due to complications from Aicardi Syndrome. The Aicardi Syndrome Foundation funds research into treatment and helps parents of sufferers connect with researchers and with one another at an annual conference. Hines decided to launch a donation drive for the foundation in December, with different rewards for different goals. What, pray-tell, would those rewards be? Hines would duplicate the poses on various scifi, fantasy, and comic book covers.
See, about a year ago, Hines posted a series of photographs of himself posed as the women on various book covers as a comment on the way women are frequently depicted in genre fiction. (To contrast the female poses, he also took a series of photos of himself duplicating male cover poses.) As part of this charity drive, he asked donors what covers they would like to see him duplicate. Among the winners were Catwoman Vol. 1, the Esther Friesner-edited Fangs for the Mammaries, and Pip Ballentine and Tee Morris' Phoenix Rising. Occasionally John Scalzi would get in on the fun, challenging Hines to a pose-off. And man, can Scalzi pose.
If he raised more than $5,000, Hines vowed to gather John Scalzi, Pat Rothfuss, Charles Stross, and Mary Robinette Kowal at ConFusion to duplicate the cover of Young Flandry, and this weekend he made good on that vow. In total, Hines raised $15,405 for the Aicardi Syndrome Foundation, and he's looking to make a 2014 pose calendar. Of course, even if you missed the donation drive, you can still donate to the foundation.
It's nice to see authors poking a bit of fun at sexist cover conventions while raising money for a good cause.
G/O Media may get a commission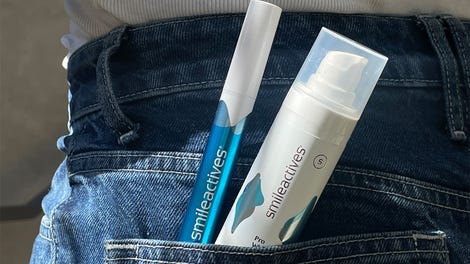 58% off
Whitening Powerhouse Pen & Gel Duo
Group Cover Pose Reveal! [Jim C. Hines]