Ludi Lin talks Power Rangers. Jeph Loeb offers a glimmer of hope for the future of Agent Carter. Riz Ahmed teases his Rogue One role. Plus, how Justice League Action's tone compared to past DC cartoons, more Justice Society teases on Legends of Tomorrow, and Melissa Rosenberg on Jessica Jones. Spoilers Now!
Spider-Man: Homecoming
Donald Glover says nothing at all, really, about his time on set:
I'm not allowed to say. Sworn to secrecy.
He continues:
It's really great. I had a really great time on that set. Jon's doing a really good job as a director. It was really fun to be home.
[/Film]
---
Power Rangers
Ludi Lin discusses his approach to playing Zack in the film:
Well, I did a lot of my own stunts. The director was wonderful. We just worked as a team to work out what I can do and what I can give to the character. I wanted to develop something very different for the character because the character is the first Chinese superhero. I didn't want him to be a typical Kung-Fu, Wushu fighting pretty kicks. I wanted something powerful because it's a sexy character as well.
---
Rogue One: A Star Wars Story
Talking to Entertainment Weekly, Riz Ahmed discusses his character Bodhi Rook, and his defection from the Empire to the Alliance.
He tends to be a little tense, a little volatile, but everybody in the group really relies on his technical skills. A character like Bodhi is not born into the life of a soldier. He's a pilot working for the Empire, doing his job, getting on with it. But when you put ordinary people in extraordinary circumstances, it can freak them out. It can inspire deep passions. So I'm gonna defend Bodhi.

The feel of this film is quite rough and ready, and so is the mission and so are the characters, and so is the coming together of the characters…So the idea of people having special ships that they spit-shine and say, 'Hey, this is my ship called the XYZ,' that's not of this world. This world is more about 'Grab what you can, and let's roll.'
G/O Media may get a commission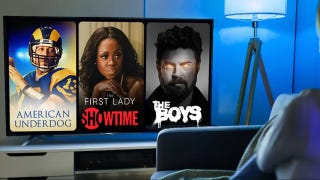 UNDER $1
99¢ Prime Video Channels
Here's your now mandatory teaser trailer for the teaser trailer.
---
Doctor Strange
Scott Derrickson says the magic of the film is truly magic—and won't be explained as advanced science:
Magic is magic in this movie. It's not something that's explained away scientifically.

It's not something that's easy to define. As magic should be. Magic should be mysterious. There's mystery to magic and there's mystery to the tone of the movie. Mystery is a good thing.
---
Thor: Ragnarok
Tom Hiddleston joins Instagram with a picture of himself on set and in costume as Loki.
---
Agents of SHIELD
Ghost Rider races into action—with Daisy on top of Robbie Reyes' Dodge charger as an unlikely passenger—in new footage from location filming. Sadly, no good look at the actual driver of the car just yet.
---
Justice League Action
Executive producer Alan Burnett talks about the series' tone and where it sits in comparison to past animated takes on DC's heroes:
Batman: The Animated Series was a little older, and this one is a little younger. It's an action show with comedy, but the stakes are always serious.

Batman's always been so serious, to the point that he gets a bit grumpy. You see the curmudgeon here, when he deals with heroes like Booster Gold, who has all kinds of schemes to get rich, and other characters, too. Superman's still the stalwart Boy Scout, but he seems sweeter to me in this one. And Wonder Woman comes off as a great warrior, and a lot of fun, thoroughly modern.
---
Agent Carter
Jeph Loeb discusses the cancellation of the show, but offers hope that the series could return in a TV-movie-style format at some point:
[Marvel Studios schedulers] get to say, 'In 2019, were going to bring you Captain Marvel,' and when it shows up in a movie theater, [no theater owner] is going, 'Whoa, hold on a second — we didn't say that that was OK!' What Marvel Television does every day is it connects with our partners — ABC, FX, Fox, Netflix, Freeform — and they tell us when they would like it. So the short answer is: Sure, if someone wants to call and say, 'We want a two-hour Agent Carter for May 2017,' boom. We'll put together the greatest Agent Carter movie we can.
[TV Line]
---
X-Files
David Duchovny wishes Gillian Anderson a happy birthday, while offering a tease about there being more X-Files to come—presumably linked to the fact that discussions are currently ongoing for a new season of the show.
---
American Horror Story
Sarah Paulson will indeed return for the next season. [TV Line]
---
Jessica Jones
Melissa Rosenberg talks about how Jessica's story is shaped and influenced by the events of the other Netflix shows:
What's nice for us over on our side of the hall, is if we think — we're still shaping what we want to do, but we're like, maybe we can set them up over in 'The Defenders,' let's go talk to ["Defenders" showrunners] Doug [Petrie] and Marco [Ramirez], and we're like, 'Hey, what do you think about this?'

[W]e can really get into some very interesting aspects of their characters and where they're from, where they're going, all these things. I'm super excited about that.
She also confirmed that Kilgrave is well and truly dead and done with.
...we'll never create that again. That is one of the great iconic characters played by a profoundly talented actor. The objective is not to match that, not to try to do that again.
[IGN]
---
Legends of Tomorrow
Finally, Marc Guggenheim offers another Justice Society tease on Twitter.
---
Additional reporting by Gordon Jackson. Banner art by Jim Cooke.