The finalists of the 2015 Wellcome Image Awards have been announced. From insectoid eyes and cat tongues to curved spines and boll weevils, here are the most spectacular science photos of the past year.
Top image: The boll weevil as seen through a scanning electron miscroscope (Daniel Kariko/Wellcome Images).
"The breath-taking riches of the imagery that science generates are so important in telling stories about research and helping us to understand often abstract concepts," noted scientist and broadcaster Adam Rutherford in a Wellcome Images release. "It's not just about imaging the very small either, it's about understanding life, death, sex and disease: the cornerstones of drama and art. Once again, the Wellcome Image Awards celebrate all of this and more with this year's incredible range of winning images."
Greenfly Eye
G/O Media may get a commission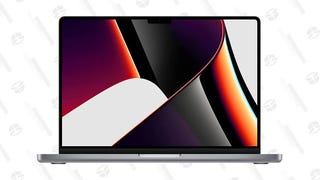 Save $300
2021 14" 1TB MacBook Pro
Kevin Mackenzie, University of Aberdeen/Wellcome Images.
Newly Discovered Parasitoid Wasp
Andrew Polaszek, Natural History Museum/Wellcome Images.
Elderly Woman with Kyphosis (curvature of the spine)
Mark Bartley/Wellcome Images.
Chemical Reactions in the Kidney
Jefferson R Brown, Robert E Marc, Bryan W Jones, Glen Prusky and Nazia Alam/Wellcome Images.
Cross Section of a Cat's Tongue
David Linstead/Wellcome Images.
Pollen Grains, Asteraceae
Maurizio De Angelis/Wellcome Images.
Purkinje Cell and Dendritic Tree
Professor M Häusser, Sarah Rieubland and Arnd Roth, UCL/Wellcome Images.
Drug-Releasing Depots in Mouse Lungs
Gregory Szeto, Adelaide Tovar, Jeffrey Wyckoff, MIT/Wellcome Images.
Brain Astrocyte Cell Taking Up Carbon Nano-Needles
Khuloud T. al-Jamal, Serene Tay, Michael Cicirko/Wellcome Images.
Nervous System in a Fruit Fly Larva
Albert Cordona/HHMI/Wellcome Images.
Stomach Chamber of a Goat (Reticulum)
Michael Frank/Wellcome Images.
Natural Killer (NK) Cells of the Immune System
Dieckermann and Lawrence, Cambridge University/Wellcome Images.
Mouse Brain
Luis de la Torre-Ubieta/Wellcome Images.
Tuatara Skeleton
Sophie Regnault/Wellcome Images.
The overall winner will be announced at a ceremony on March 18th, 2015. The finalists were selected by a panel of nine judges.