Jimi Heselden will forever be remembered as the Segway, Inc. chairman who rode his product off a cliff. That's a shame. Because Heselden's life amounted to so much more than that one tragic accident.
Heselden grew up in the depressed Halton Moor suburb of Leeds, UK, the type of place that's more likely to turn out miners than millionaires. In fact, that's exactly how Heselden started out. Dropping school at 15 to work at the Waterloo Colliery, Temple Newsam, and Lofthouse pits, he was on track to spend the rest of his life underground.
And that's where he stayed, until a miner's strike in the early 70s forced him out of a job. It was, in retrospect, the best thing that could have happened to him.
Already in his early 30s, uninterested in returning to the pits, in 1973 Heselden pooled his severance money with some friends to invest in a sandblasting machine. The timing couldn't have been better; as the North Sea oil business boomed, there was money to be made in sandblasting oil storage containers. A significant portion of which went to Heselden and his friends.
G/O Media may get a commission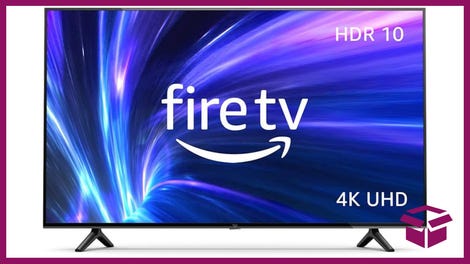 42% Off
Amazon Fire TV 50" 4K Smart TV
That's not the business that made Heselden one of the 400 richest people in the UK—but it's what gave him the inspiration for what did. According to a 2008 interview with the Yorkshire Evening Post:
Jimi explained: "One of [the containers] was so big I had to take a hill out of my yard to get it in. It needed shoring up, so I put mesh around it and filled it with the spent grit and shot."
That mesh box evolved into Heselden's billion dollar idea: the Concertainer. The collapsable mesh box may have started out collecting rubble in Heselden's backyard, but today it's essential for everything from military operations to flood management.
Heselden's company, Hesco Bastion, received its first defense contract in 1991. In the intervening years, Heselden quietly became one of the UK's most generous philanthropists. He donated more than $15 million to support laid-off miners and their families in and around his hometown in 2008, then doubled down on the donation earlier this year. He's also given millions more to provide aid to wounded British soliders.
It wasn't until this past January that Heselden purchased Segway, Inc. with a few business partners. Not much had changed in the business since the acquisition, although clearly they thought they could find a wider audience for the machine that was supposed to change everything.
So while it seems likely Heselden will be remembered for an "ironic" death—that ten months ago we could have just called tragic—let's not to forget the other 61 years of his life, and how he lived them: with determination, intelligence, and generosity.
Related Links:

Five Fantastic Mods to Reboot Your Segway
Segway Company Owner Dies After Driving Segway Off Cliff
Where Were You When the Segway Changed Everything
Segway Acquired by UK Based Firm
Dean Kamen's Full Bionic Luke Arm Video From All Things D
All Things D: Dean Kamen on his Mind-Controlled Cyborg "Luke" Arm
Dean Kamen Appears on Colbert Report Literally Armed With Bionic Limb
Dean Kamen Cyborg Arm (Part II)
Colbert: First Vid of Dean Kamen's Miracle Water Distiller
Segway Inventor Dean Kamen Makes Cameo at CES
When Tech Gods Were Mortal Men
The Next Gadget Gods
Illustration by Sam Spratt. Check out Sam's portfolio and become a fan of his Facebook Artist's Page.