Maybe you have a very lonely friend who spends his days claiming he's allergic to Vitamin D and then spends his nights going on dates on Second Life and partying in online forums. Or maybe you're that person. Either way, those forever alone types need extra attention during the holidays. Here are the gifts you can buy them.
---
1. Heineken BeerFriender
Beer. It solves all problems. The answer to life lies in the bottom of the sixth glass. You're with me, right? Even if you're alone, getting drunk is a necessity to life. And not only does the Heineken BeerTender spew fresh Dutch liquid in the form of a minikegerator, Heineken has got you covered on how to procure one without feeling like a loser (sort of). Heineken's BeerFriender is a Facebook app that allows you to "buy a BeerTender for yourself and make it look like it was a gift from someone else". It hooks you up with someone else who wants a BeerTender and you guys buy it for each other, for yourselves. $100 [Heineken]
G/O Media may get a commission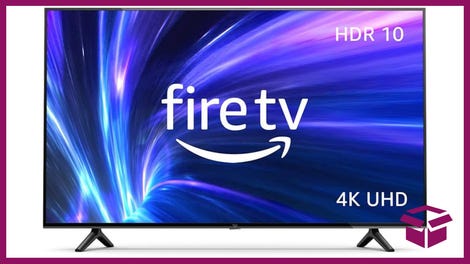 42% Off
Amazon Fire TV 50" 4K Smart TV
---
2. Fleshlight Motion
Using a normal Fleshlight is fine and all but it's merely only a remix on your nightly ritual. If you're forever alone, you need a more full-fledged experience! One that requires boning furniture. The Fleshlight Motion is an ottoman with a fake vagina on its side that you have sex with like a person. You know what that means? Versatility! Rest your feet on it during the day and make sweet love sounds at night. $127 [Fleshlight]
---
3. FakeGirlfriend.co
For those few time forever-a-loners travel outside into the real world, things might get a little awkward. I mean, what would they talk about? Their non-eventful day? Their creepy night habits? Social interactions aren't exactly their forte. Standing like a wallflower at party will immediately point them out as a weirdo. So FakeGirlfriend.co to the rescue! It's a brilliant fake texting service that saves you from awkward situations. It texts you when you're in need and it makes it look like you have a girlfriend. Like we said before, it's the ultimate social eject button. Free [FakeGirlfriend.co]
---
4. Girlfriend Body Pillow
But FakeGirlfriend.co can only do so much, who's going to be there when you get home? Who's going to cuddle with you after you use your Fleshlight Motion? Who's going to soothe a morning hangover? The Girlfriend Body Pillow that's who. A pillow soft arm for you to rest your head on and perky breasts to snuggle between, can a lonely man ask for more? $12 [Sears]
---
5. Playstation Vita
Sorry, guys. I may be in the minority but when I see a grown person play a handheld video game console in public, I immediately think two things. He's either the luckiest bastard in the world (for landing an understanding girlfriend/wife) or the weirdest guy this side of Mr. Zune Tattoo dude. The good thing! Your lonely friend doesn't think PSPs and DSes are weird at all, in fact, he'll awkwardly hug you a little too long if you buy him a Vita (which is a fine system!). $250 [Playstation]
---
6. Shin Ramyun
Ordering Seamless everyday is tough on the bank account and will eventually make Bob the delivery man think you're a loser. Hah! He's a delivery boy! He's the loser! Right...? But with no kitchen skills, eating bland cup o noodles everyday is a sad existence. UPGRADE. Introduce your friend to the best instant ramen there is this side of Asia: Shin Ramyun. The Koreans hit it out of the park with this one, with delicious flavoring and enough spice to make your lips tingle. $20, 20/pack [Amazon]
---
7. Microwave for One Cookbook
But even awesome ramen gets old! Microwave for One is a cookbook that tells you how to make meals for yourself with just a microwave. If you don't think that's the saddest (or most amazing) thing in the world, just read the Amazon reviews: "Alone in my dark apartment, having worn my 3 Wolf Moon T-Shirt as well for countless weeks, found this book to be my bible." and "As an elderly gentleman who lives by himself in a condo I found this book very helpful in planning my daily meals." Perfect. $16 [Amazon]
---
8. Garfield Minus Garfield Book
You have to let your friend know that he or she isn't alone out there. That being alone is a completely normal phase in life. That such an existence has been documented in history in book form. Well, a comic book. Well, a comic book that was hilariously stripped from its main character. But still! This is amazing work and if Jon could do it without Garfield, your friend can too. $10 [Amazon]
---
9. Amazon Prime
There's few things more exciting for lonely people than knowing they'll be receiving a shipment later that day. The sun shines a little easier on their eyes, the wind doesn't allergize their skin and people don't look at them funny. Amazon Prime is the best thing you can gift a person because it's click, ship and deliver in two days flat without any work. Plus, it gives them more opportunities to not talk to Monica, the delivery woman who they swear takes special care of their packages. $80 [Amazon]
---
10. Extreme Kidnapping
If your forever alone friend has exhausted every sort of excitement in his world, why not scare the living shit out of him with a service called Extreme Kidnapping. This is a real thing. People pay people to kidnap them, treat 'em like dirt and record it on tape for future viewing sessionss. Seriously! Extreme Kidnapping promises "the most realistic, HARDCORE, movie-style kidnappings in the country and allowable by law." You hear that! If lonely man needs human contact, Extreme Kidnapping offers the right amount allowable by law. $500+ [Extreme Kidnapping]
---
Still haven't found the right present? Don't worry, we're here all month with a new gift guide every day—right up until the last minute. To see 'em all, head on over to #GiftGuide.