US Immigration and Customs Enforcement has repurposed cellphone tracking technology typically used in criminal investigations to track down at least one immigrant for deportation, The Detroit News revealed last week. ICE's controversial use of the surveillance technology has caught the eye of Senator Ron Wyden, an Oregon Democrat who is now demanding answers from ICE about its use of cell-site simulators, colloquially known as "Stingrays."
"Stingrays are undoubtedly a useful tool for law enforcement agencies—who have a difficult, dangerous, and important job to do," Wyden wrote in a letter sent today to ICE acting director Thomas Homan. "Stingrays impose too high a toll on communities to be used to investigate low level, non-violent offenses, such as locating individuals who have entered the country illegally or overstayed a visa."
ICE agents reportedly used a cell-site simulator, which spoofs a cellphone tower signal and tricks devices into connecting to it instead of a legitimate signal broadcasted by a carrier like AT&T or Verizon, to track Detroit resident Rudy Carcamo-Carranza. Carcamo-Carranza is a 23-year-old restaurant worker accused of entering the US illegally and being involved in a hit-and-run while driving drunk.
Cell-site simulators are capable of vacuuming up large amounts of data from nearby cellphone users and may be useful in pinpointing the locations of known criminals and terrorists. But the devices also pose an inherent risk to communities where they are deployed. The devices can disrupt 911 calls and scoop up metadata from hundreds if not thousands of innocent bystanders—information which is supposedly purged after each use, according to internal Homeland Security and Justice Department policies.
Wyden is asking ICE to answer the following questions about its Stingray use before June 30:
1. How many times has ICE used stingrays or similar surveillance technology during each of the last five years to locate individuals in order to arrest and deport them?

2. What policies govern the use of stingrays in immigration enforcement operations?

3. What steps does ICE take during stingray operations to limit interference with or disruptions to the cell phones of innocent Americans?
G/O Media may get a commission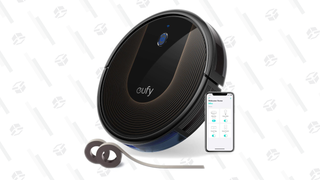 48% Off
Eufy BoostIQ RoboVac
According to The Detroit News, an ICE spokesperson said that cell-site simulators are "invaluable law enforcement tools that locate or identify mobile devices during active criminal investigations."
Additional reporting by Dell Cameron.