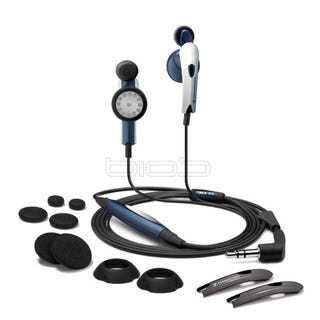 Sennheiser is dropping five new headphones for the world to enjoy. Sennheiser is known for making top notch headphones, so hopefully these will live up to their usual name.
The MX55V Street earbuds retails for $40 and has Sennheiser's Twist-to-Fit design for maximum comfort. They include the Basswind System and a in-line volume control. The MX 51 retails for $30 and is a traditional, or classic earbud. They have rubber earpads for comfort and average sound—nothing too spectacular. The MXL 51 retails for $35 is identical to the MX 51s but the earbuds are integrated into a lanyard—hence the L. The OMX 50 Street retails for $35 and are similar to the previous models mentioned, but they have a behind-the-ear loop form-factor. Lastly is the OMX 52 Street. These are $40 over-the-ear headphones that are super light and supply excellent sound with Sennheiser's top notch technology, including the Basswind System.
Affordable Sennheiser smaller headphones and earbuds? I'll admit it, I am a little excited.